Pete Feenstra
---
The Pete Feenstra Rock & Blues Show,  Tuesday 19:00-21:00 followed by Blues Rock Music Marathon
Wednesday 22:00, Friday 20:00 repeat
The Pete Feenstra Feature (Sundays, 20:00)
Pete Feenstra has been an established music promoter and writer since the late-1970s. Most recently he has contributed to Classic Rock Blues magazine and wrote the book accompanying the Family 'Once Upon A Time' boxed set.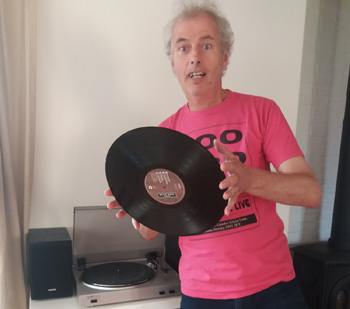 He is a professional promoter, starting out at the legendary Mean Fiddler, including Shepherds Bush Empire and, latterly, the Boom Boom Club in Sutton, Surrey which he established in 2001. The Boom Boom Club and Beaverwood Club in Chislehurst (which he also runs) regularly showcase up and coming (and established) blues rock talent.
Pete is also Get Ready to ROCK!'s Features Editor and Blues & Rock Editor and is a great champion of new blues music as well as established artists. He promoted early UK gigs for Joe Bonamassa and Walter Trout and commands great respect amongst those artists who he has supported (and written about) over many years.
In 2016 Pete won two major blues awards.  Pete's service to the promotion of blues via reviews, gigs and broadcasting, was recognised at the British blues Awards on 11 September.  In receiving a Lifetime Achievement award Pete's citation stated "a man consumed and motivated by music…Without the unstinting commitment of music lovers like this we would be culturally bare, live music would wither on the vine. "
And, with a unanimous team vote, Pete also picked up a Lifetime Contribution award at the European Blues Awards in November 2016.  Pete also won Best Radio Show in the 2019 awards.
In May 2020 Pete was voted UK based Blues Broadcaster of the Year at the UKBlues Awards promoted by UKBlues Federation.
Pete was named as a finalist and nominee in the 2021 and 2022 UK Blues Awards.
He was voted 'Best Podcast' for the Rock & Blues Show by the Wrinkly Rockers Club in 2021 and 2022 .
PETE NOMINATED FOR 2023 UK BLUES AWARDS! MORE INFO Voting from 4 February!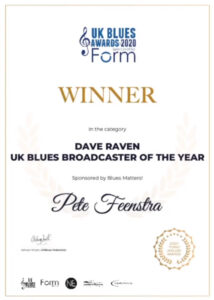 ---
In this end of year show, Pete Feenstra played some of his show favourites from 2022.  Part 2 is broadcast w/c 26 December.
---
LINKS
The Pete Feenstra Rock & Blues Show
The Pete Feenstra Feature
Pete Feenstra website
Pete Feenstra, Presenter