New to GRTR!
An hour of new music and latest playlist additions...
---
Sunday 21:00 Tuesday 16:00 repeat, Thursday 21:00 repeat
A round-up of latest playlist additions, new and forthcoming single and album releases with an emphasis on independent artists and labels.
Also a preview of future 'Power Plays' – more frequent play across the station for selected tracks.
---
Latest playlists
[24.09.23]
KALIEDA Hollow (Embassy One)
AIKO Pedestal (indie)
CATCH YOUR BREATH Mirror (Thriller Records)
CREEPER Black Heaven (Spinefarm)
CORE Daydream Junkie (indie)
GYPSY'S KISS Better Than Me (Vole Records)
MISTER E & THE MYSTERIES Play That Song (indie)
DOWNTOWN PATRIOTS We Don't Need You (Maisola Records)
RILEY'S LA GUNS The Dark Horse (Golden Robot Records)
THE SUNSET RADIO The Hardest Time (indie)
COPPER LUNGS Free World (indie)
SILENCE IN THE SNOW You Fade (Prophecy Productions)
ROK ALI & THE ADDICTION Ponder This (indie)
ROSE TIGER Meet Me At The Cemetery (indie)
ELECTRIC ENEMY The Fear (indie)
RAVEN TIDE Reach For Me (indie)
HIGHTOWN PARADE Wild Wild Wish (indie)
---
[17.09.23]
PRYMA My Cold Shadow (indie)
ONE MAN BOYCOTT Empathy is Overrated (indie)
SILVEROLLER Hold (Golden Robot Records)
CANNONBALL Creeping Beauty (Sodeh Records)
THE STRAY PURSUIT Mama (indie)
HEARSCAPE – Promised Me (Epictronic)
READ THE ROOM Jade (indie)
EMMA HUNTER Guilty (indie)
SUNMACHINE Spine (indie)
DEAD POET SOCIETY Running In Circles (Spinefarm)
PIQUED JACKS Color Shades (indie)
AVIANA As Above, So Below (Arising Empire)
ALESTI Flawed Design (indie)
AMONGST LIARS The Shameful (indie)
TESSERACT Legion (KScope)
THEOCRACY Mosaic (indie)
---
[10.09.23]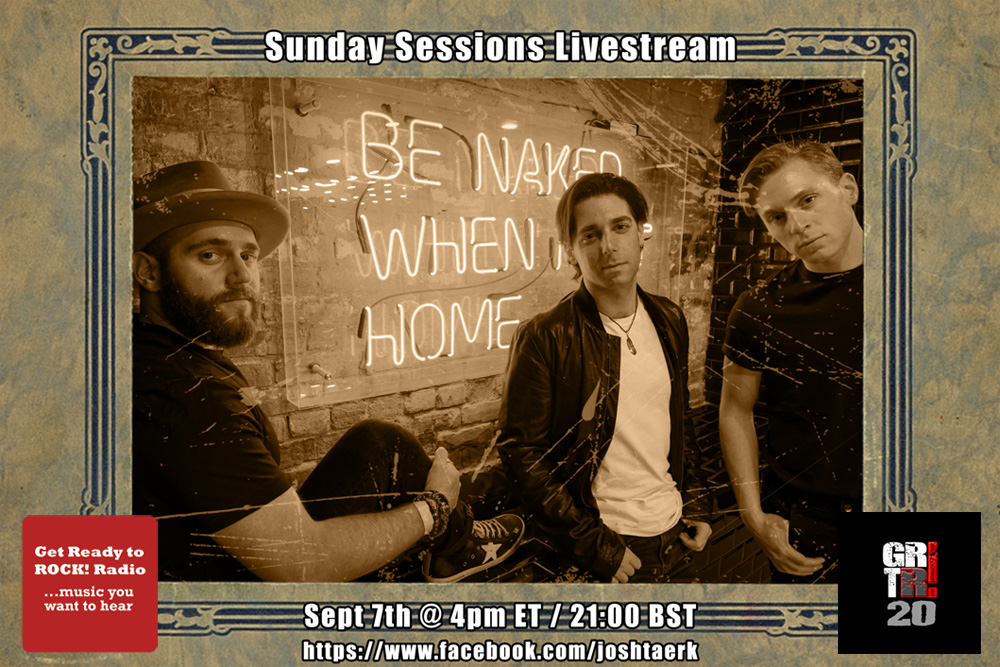 ---
[03.09.23]
DOGMA Forbidden Zone (MNRK)
ESSENCE OF DATUM Rodent Rebellion (indie)
COPING METHOD Hypomania (FiXT)
SCOTT STAPP Higher Power (Napalm Records)
ROYAL TUSK Head Up (MNRK Music Group)
PALACE OF THE KING Down On Your Luck ()
MARSHALL POTTS Never Gets Old (indie)
JORDAN JOYES Confluence (indie)
AIKO Lucky Streak (indie)
STEVE HILLIER Listen To The Wind Below (indie)
CLOSURE IN MOSCOW Keeper Of The Lake (Bird's Robe Records)
ASH Crashed Out And Wasted (Fierce Panda)
NATURE TRIP Feel Good (indie)
LOSTALONE Waiting For The Magic To Show Up (Dharma Records)
ABLE MACHINES Evidence (indie)
---
[27.08.23]
There was no show this week.
---
[20.08.23]
WINTERSTORM Fate Of The Atlanteans (AFM Records)
THE OMNIFIC Phat Mackerel (indie)
IAIN MACDONALD It's My Dream (indie)
BLUE STRAGGLERS Existential Crisis In A Nightclub (Hassle Records)
STAY FOR TOMORROW Aways You (indie)
HORSEMEAT Bring It Down (indie)
HARD TO EXPLAIN Watch Me (indie)
ACCIDENTAL PRESIDENT Bitter Sweet (Wormholedeath)
FIGHT THE FADE Stranger (FixT)
SOURCE Bitter (indie)
BLACKLIST UNION Dirty Halo (indie)
SHE BURNS RED Crosshairs (She Burns Red Records)
AVIND Eventyrblanding (indie)
LUCY GAFFNEY Daydream In Tokyo (indie)
MELODY FEDERER Falling Out (Licorice Pizza Records)
PISTOLS AT DAWN Fly (indie)
---
[13.08.23]
PLASTIC HEART Your Mind (indie)
GALAXY THIEF Come Alive (Right Track Records)
VAMBO Sweet Christine (Pride And Joy Music)
ELISABETH GREY Good Enough (indie)
DREAM DROP Under Pressure (indie)
L.A. PROJECT Carry On (indie)
THE PETAL FALLS Dancin' Thru The Crowd (indie)
PHIL JAMIESON Rubberband (Golden Robot)
THUNDERSTICK Go Sleep With The Enemy (indie)
RUBIKON Lose It All (Round Hill Records)
CREEPER Teenage Sacrifice (Spinefarm)
TAKIDA The Loneliest Hour (indie)
ANTIPOD Nouveau Ere (Wormholedeath)
THE BLACK SKELETON The Rabbit Hole (Golden Robot)
DANKO JONES Electric Sounds (indie)
FOLLOWING THE SIGNS Escape (indie)
---
[06.08.23]
blacktoothed Novacaine (Arising Empire)
AWAKENING SUN Roses (Seek & Strike)
FOREIGNWOLF Martyr (indie)
EMPTY GUNS Prelude To Madness (indie)
WEEKEND RECOVERY No Saint (Criminal Records)
JESSIE SCARLET Runaway (Kycker)
HUMAN RENEGADE The Fallen Rising (indie)
SMASH INTO PIECES Watching Over You (indie)
SECOND CITIES Chewing Teeth (indie)
ROOMMATES I'm A Wreck (indie)
LITTLE THIEF Geronimo (indie)
CAVO Synchronicity II (indie)
DARKPLACE Cars (Icons Creating Evil Art)
WHITE RAVEN DOWN Stole My Light (indie)
JELUSICK The Great Divide (Escape Music)
DEREK SHERINIAN & SIMON PHILLIPS Inertia (InsideOutMusic)
---
[30.07.23]
VS/U Relapse & Repeat (indie)
CATCH YOUR BREATH 21 Gun Salute (Thriller Records)
POMEGRANATE TIGER Devils To Ourselves (indie)
HOLDING ABSENCE Scissors (SharpTone Records)
SOPHIE LLOYD Runaway (indie)
ATTIC THEORY Paper Mache (indie)
SOULWEAVER Five Mile Tide (indie)
THEIA I'm Plastic (WDFD Records)
KARNEY Rainbow In The Dark (indie)
LINDA LAMON Venus Shine On (indie)
LEE ROGERS Peace Of Mind (Zenith Cafe)
DIRTY SOUND MAGNET Melodies From Distant Shores (indie)
MYTH OF I Oni (indie)
WOLF PRAYER Luna (Barhill Records)
DONOVAN PLANT & THE LEAFS Grow (indie)
---
[23.07.23]
ODD CREW Wings On A Burning Wind (Drakkar Entertainment)
BLACKLIST UNION Dirty Halo (indie)
BENT SINISTER Price You Pay (indie)
FINISH TICKET Changing (indie)
DEEOHGEE Don't Give Up On Love (indie)
ALT BLK ERA Misfits Solar (indie)
CRUSHED BY WAVES Nothing Left (indie)
3FORCE Unleash (FiXT)
FISH ON MARS Pluto's Revenge (indie)
CLICHE CULT Sweet Therapy (indie)
THE SHERLOCKS Remember All The Girls (indie)
PENNINE SUITE Make Up (Kycker)
PEAK FLOW Running To You (indie)
IMAGINARY DREAMERS Right Before You (indie)
ANY GIVEN SIN Follow You (Mascot)
---
[16.07.23]
STARBENDERS Body Talk (Sumerian Records)
THE SURVIVAL CODE Haunted By Myself (Good Deeds Ltd)
HAIL THE SUN Maladapted (Rude Records/Equal Vision Records)
TEMIC Count Your Losses (Season Of Mist)
QUEEN COLT Blackhole (indie)
LORD OF THE LOST Reset The Preset (indie)
VOYAGER Ultraviolet (Season Of Mist)
HAUNT THE WOODS Gold (Spinefarm)
GABRIELLA HUNZINGER Body Away (Ameno Records)
ROYAL TUSK All My Life (MNRK Music Group)
BROMSEN Read About It (indie)
TAKIDA The Loneliest Hour (Napalm Records)
FILTER Obliteration (Golden Robot Records)
LOVE IS ENOUGH Stay (indie)
DESOLATION SOUND Beautiful Sun (Robo Jack Records)
---
[9.07.23]
CAVO Comes Back On (TLG/InGrooves)
BLIND MAN'S DAUGHTER Saencer (Heavy Metal Records)
CALL TO THE FAITHFUL Let Me Down (indie)
VAMBO Worlds Collide (Struggle For Power) (Pride & Joy Music)
DOWNTOWN PATRIOTS One Night Stand (Maisola Records)
DEAD REYNOLDS Save Me (indie)
ELECTRIC BLACK Sick Of Myself (TMR Rock Records)
THE BEVIS FROND Not Until I Feel It (Fruits de Mers Records)
SOFT HEARTED SCIENTISTS The Fixer (Fruits de Mers Records)
HANDFORD FLYOVER Shadows On The Sun (Fruits de Mers Records)
KITTY MAY It's Impossible (Catch 21 Records)
PHIL JAMIESON Somebody Else (Golden Robot Records)
MEGA DRIVE Arc Ascension (FiXT)
THE PETAL FALLS Side By Side (indie)
---
[02.07.23]
KK's PRIEST One More Shot At Glory (Napalm Records)
SMASH INTO PIECES Flow (indie)
KATH AND THE KICKS Neptune (indie)
LAVIRE Fall From Grace (indie)
CELLDWELLER The End Of The World (FiXT)
3FORCE Prevention (FixT)
CELINA Hellfire (FixT)
WILD FIRE Unspoken (indie)
HOLDING ABSENCE Honey Moon (SharpTone)
HOLLOWS The Floor (End Of The Trail Records)
DOGMA My First Peak (MNRK Heavy)
CRUSH THE CURE Final War (indie)
MYTH OF I Jenova (indie)
A LIFE DIVIDED Send Me An Angel (indie)
LOST ALONE The Final Call For Forever (Dharma Records)
---
[25.06.23]
ROZARIO To The Gods We Swear (Pride & Joy Music)
WAILING BANSHEE The Oracle (indie)
FIGHT THE FIGHT Monarch (Indie Recordings)
NAGA SIREN The Last Time (indie)
FATAL VISION Dominoes (Pride & Joy Music)
MARSHALL POTTS The Change (Go Alice Records)
ELISABETH KAPLAN Music Everywhere (indie)
POLLYANNA BLUE Haunted (indie)
THE KUT Runaways (Criminal Records)
MARIO VAYNE Baby (indie)
SIXTY MILES DOWN She Burns (indie)
THE MILK MEN She Don't Like Rock N Roll (indie)
DESOLATION SOUND Arms Around You (indie)
TRICK SHOT Wanna Love Me Too (indie)
VENDETTA LOVE On & On (indie)
PYRAMAZE Even If You're Gone (AFM Records)
---
[18.06.23]
BLUE EYED GIANTS – 97 (Famined Records)
BLITZ UNION Freak Anthem (indie)
THE GEMS Like A Phoenix (Napalm Records)
SILENCE IN THE SNOW Ghost Eyes (indie)
CALL TO THE VOID Uncontrollable (indie)
THE FEVER KINGS Ain't Gonna Say A Word ()
SUPERLYNX Into The Sun (Argonauta Records)
POLLYANNA BLUE Strong Enough (indie)
HAIL THE SUN Under The Floor (Rude Records)
GIRLSCHOOL It Is What It Is (Silver Lining Music)
STARSCREAM Shatter The Sky (indie)
THE STRAY PURSUIT Let It Be Known (indie)
ASKING ALEXANDRIA Psycho (Better Noise)
NITROVERTS Break The System (FiXT)
JOSH TAERK Hold On Virginia (Sony)
---
[11/06.23]
LORD OF THE LOST Curtain Falls (indie)
ALBANY DOWN Always Want What You Can't Have (indie)
NOUVEAU ARCADE Static Eyes (FiXT)
NIGHT TALKS Roll On (indie)
BOXES Fighter (indie)
AVALIGHT Ocean Of Infinity (indie)
ISADORA EDEN Haunted (indie)
CALL ME CANNON Circles (indie)
OCEAN ALLEY Lapwing (indie)
BLIND MAN'S DAUGHTER Mirage Harmer (Heavy Metal Records)
THE SPECTRE BENEATH Time Dilation (indie)
SOUND AFFLICTION The End (indie)
BLACKLIST UNION Letters From The Psych Ward (indie)
YESTERDAZE Don't Bother (Indie Recordings)
---
[04.06.23]
BLACK 7 Break Up (Sodeh Records)
NEBULARIS Subnautica (indie)
LOST RELICS Doomed From The Womb (Iron Head Records)
SAINT AGNES Outsider (Spinefarm)
YESTERDAZE Don't Bother (Indie Recordings)
TRICK SHOT Nothing I'd Rather Do (indie)
ISADORA EDEN Haunted (indie)
FAINT LINE Red Tide (indie)
DORIAN ELECTRA Sodom & Gommorah (indie)
GIRLS UNDER GLASS Tainted (indie)
CREEPER Cry To Heaven (Spinefarm)
THE ANIX Tethered (FiXT)
ALT BLK ERA I'm Normally Like This (indie)
ADAM MASTERTON Time Bomb (indie)
CARBON BLACK Red Tide (Wormholedeath)
---
[28.05.23]
JOSH TAERK Sunday Session
---
[21.05.23]
A chance to hear again show favourites (January-March 2023)
---
[14.05.23]
THE WINERY DOGS Breakthrough (earMUSIC)
FURY WEEKEND Let Go (FiXT)
happydaze Day In And Out (indie)
DOWNTOWN PATRIOTS Your Burden (indie)
THE FEVER KINGS Resist (indie)
JASON CHARLES MILLER If You Don't Know (Golden Robot Records)
PYRAMAZE Alliance (AFM Records)
LILY & MADELEINE Come To Me (indie)
INDYA Leather 'n Lace (indie)
ASHLEY SHERLOCK Trouble (Ruf Records)
HATS OFF GENTLEMEN IT'S ADEQUATE – Burn The World (indie)
HOURGVLSS – Calling (indie)
PHOXJAW icecreamwitch (indie)
THROW THE FIGHT Obey (Long Branch Records)
MUDSHARK Nonchalance (indie)
---
[07.04.23]
SAMANTHA MOON Divine Being (indie)
CHAZ JANKEL Water (indie)
RIIVER BRUKES Time Will Tell (indie)
JAIME KYLE Driving With The Brakes On (indie)
PALACE OF THE KING Friends In Low Places (indie)
MOON MATES Not Today (MVKA)
MIRA DISCONNECT What Happens On The Outside (indie)
FILTER Face Down (Golden Robot Records)
LEADFINGER Gimme The Future (Golden Robot Records)
BONFIRE Who's Foolin' Who (AFM Records)
PARTINICO ROSE Undeclinable Ways (Riot Records)
FEENSTRA & SIMPSON 75 (indie)
BLUE STRAGGLERS Running It Dry (Hassle Records)
THE ANIX Missile (FiXT)
PICTURESQUE Borrowing Problems (Rude Records)
THE USED Numb (Hassle Records)
SAINT AGNES Animal (Spinefarm)
MY-HI Phaser (indie)
---
[30.04.23]
CELLDWELLER Baptized In Fire (FiXT)
FURY WEEKEND Velvet Rain (FiXT)
MUDDIBROOKE Cellar (indie)
THE SUMMIT FEVER Messiah (indie)
LOST RELICS Hanganxiety (Iron Head Records)
LI'L HELLRAISERS Fallen (indie)
COLD IRONS BOUND Conversation (Golden Robot Records)
HEART LINE I Am The Night (Pride & Joy Music)
COASTAL FIRE DEPT. Cry Your Heart Out (L'islet Records)
MIKE ROSS Ugly Brain (indie)
JAMIE PORTER BAND Feel So Good (indie)
HURRICANE #1 Awake At 9 (Golden Robot Records)
SETTING SUN Same Face (Young Love Records)
BLACK ORCHID EMPIRE Scarlet Haze (Seasons Of Mist)
EVA UNDER FIRE War Pigs (indie)
---
[23.04.23]
AGORA Infinity (Golden Robot Records)
ABI MOORE Wake Up (indie)
7EBRA I have A Lot To Say (indie)
DEAD EYED CREEK Down By The River (indie)
BENMOZES Fake (indie)
DARKNESS IS MY CANVAS Fade Into The White Noise (Inverse Records)
CLICHE CULT Veronica (Blaggers Records)
RISING WINGS Lonely Is The Night (Pride & Joy Records)
MIDNITE CITY Someday (Pride & Joy Records)
NOGA RITTER Ofek (Galileo Music)
THROUGH FIRE The Road (Sumerian Records)
JUST A RIDE Waiting (indie)
ROADWOLF Supernatural (Napalm Records)
MOB RULES Hymn Of The Damned (Steamhammer/SPV)
VOYAGER Break A Broken Heart (indie)
---
[16.04.23]
JOSH TAERK Sunday Session
---
[09.04.23] The Best of January-March
EXPLORING BIRDSONG Ever The Optimist (Long Branch Records)
KING KRAKEN Green Terror (indie)
LAST IN LINE Burning Bridges (earMUSIC)
THE NEW DEATH CULT Get Ready (Indie Recordings)
FURY WEEKEND Delirious (FixT)
MOTIVE BLACK Caged (AFM Records)
LANSDOWNE Filthy (AFM Records)
FIGHT THE FADE Monster (FixT)
FLOYA Willows (Arising Empire)
JASON CHARLES MILLER Chasing The Sun (Golden Robot Records)
VOYAGER Promise (indie)
BXRELL – Dare To (indie)
ALT BLK ERA Rockstar: Lunar (indie)
FRAMING HANLEY Start A Fire (Thermal Entertainment)
WINGER It All Comes Back Around (Frontiers)
---
[02.04.23]
RATBREED Under Fire (Wormholedeath Records)
STEVE R PEARCE & THE HOOLIGANS Out Go The Lights (indie)
LUCKY THIEF Silencer (indie)
GIRLS UNDER GLASS We Feel Alright (indie)
CODE E1 Next Up (Green Eyed Records)
ELECTRIC SONS Black Lotus (indie)
BLOCKADE Mess You Made (indie)
TALIA HOIT Abandon (indie)
FATAL VISION Breakers (indie)
WINTERSTORM Future Times (AFM Records)
AVKRVST The Pale Moon (Inside Out Music)
BECKO Low-Key Guy (FixT)
TARCHON FIST The Flame Still Burns (indie)
ANCIENT SETTLERS A New World Order (Golden Robot Records)
---
[26.03.23]
HALFLIVES Everything Sucks (indie)
DARK STAR Strangers & Madmen (indie)
DREW DAVIES Codename Softboi (indie)
LA GUNS Diamonds (Frontiers)
HOLY REPTILE The Land (indie)
JASON CHARLES MILLER The River (Golden Robot Records)
TERZO Eve Seven (indie)
SOLCURA I Am Weak (indie)
DEAD MAN'S WHISKEY Masquerade (indie)
GEN2 Love You To Death (Golden Robot Records)
SEA OF FLAME Loper (Iron Head/Golden Robot Records)
SHAKRA Tell Her That I'm Sorry (AFM Records)
SAVAGE HANDS Black Clouds (Nuclear Blast)
GRAND DESIGN We Were Born To Rawk N Roll (GMR Music)
---
[19.03.23]
LORD OF THE LOST Blood & Glitter (Napalm Records)
THE LANDED Rage For The Machine (indie)
TORONTO IS BROKEN Drip Feed (FiXT)
BEAST EAGLE Heavy Bones (Golden Robot Records)
CELLDWELLER The End Of The World (FiXT)
IHSAHN Dom Andra (Candlelight Records)
FEENSTRA SIMPSON Haunted Man (indie)
MOOKIE & THE BAB – Goldrush (indie)
JW PARIS Wicked Game (indie)
ROLLA Hey You (Golden Robot)
FROM ASHES TO NEW Hate Me Too (Better Noise Music)
THE RUBY TUESDAYS Blacklight (Golden Robot)
BOURBON HOUSE Love Is A Killer (indie)
ANCHOR LANE Electric Karma (indie)
KAMELOT Eventide (Napalm Records)
---
[12.03.23]
SKERRYVORE Eye Of The Storm (Cooking Vinyl)
MALISSA WHITEHOUSE Simple (Indie)
SHINING PHOENIX Rise From The Ashes (Indie)
CRANBERRY SUIT Truth Be Told (Indie)
LEDFOOT & RONNI LE TEKRO Crying (TBC Records)
MARSHALL POTTS Let It All Go (Let's Go Alice Records)
JENNY DON'T & THE SPURS Fire On The Ridge (Fluff & Gravy Records)
THE NIGHTMARES Cursed (Venn Records)
BLACK 7 For This Moment (Sodeh Records)
KANAAN Orbit (Jansen Records)
GEORGE SANDERS & THE PARALLELS Tired (Bread & Butter Records/Golden Robot Records)
FOR THE FALLEN DREAMS Without You (Arising Empire)
TEXAS HIPPIE COALITION Hell Hounds (MDNK Records)
OLIVIA JEAN Trouble (Third Man Records)
THROW THE FIGHT Cover Your Tracks (Long Branch Records)
FRAMING HANLEY Start A Fire (Thermal Entertainment)
---
[05.03.23]
JOSH TAERK Sunday Session
---
[26.02.23]
BXRRELL Dare To (indie)
TAILGUNNER Revolution Scream (Atomic Fire Records)
SOPHIE LLOYD Fall Of Man (indie)
SKAM Do It Again (Golden Robot Records)
TIGERCUB Play My Favourite Song (Loosegrove Records)
VOYAGER Promise (indie)
SAN QUENTIN You're Lost (indie)
happydaze Faded (Thriller Records)
PITOU Greed (V2 Records)
IVY GOLD Broken Silence (Golden Ivy Records)
DELERIUM Coast To Coast (Metropolis Records)
ALT BLK ERA Lunar (indie)
THE COLONY Forever Seeking (indie)
DEAD REYNOLDS Wake Up (indie)
LEADFINGER Find The Words (Golden Robot Records)
DIRTY LACES Seeker (indie)
---
[19.02.23]
JASON CHARLES MILLER Chasing The Sun (Golden Robot Records)
HONG FAUX Starkiller (Golden Robot Records)
FLOYA Willows (Arising Empire)
THE LATE APRILS Evil (indie)
COLD WATER SWIMMERS In The Time It Takes For You To Say Goodbye (indie)
CONTINENTAL LOVERS – Wedding Song (indie)
SAM SCHERDEL Balloon (indie)
COLD IRONS BOUND I Wasn't Thinking At All (Golden Robot Records)
BLACK ORCHID EMPIRE Deny The Sun (Season Of Mist)
ANCHOR LANE Choke (indie)
THE NIGHTMARES Heartless (Venn Records)
STONED JESUS Get What You Deserve (Season Of Mist)
RILEY'S LA GUNS Rewind (Golden Robot Records)
BLOODBOUND The Raven's Cry (AFM Records)
---
[12.02.23]
PYRAMAZE Broken Arrow (AFM Records)
DELAIN Queen Of Shadow (Napalm Records)
UNTAMED Out Of Control (Hicktown Records)
STARBENDERS The Game (Sumerian Records)
SHIPWRECKER Pretty Face (indie)
ALLAN CLARKE Buddy's Back (BMG)
SUMMIT OF THE BIG LOW Dust (Friendly Tribe)
DRUID FLUIDS Into Me I See (indie)
THE LEMON CLOCKS The Rain (Fruits de Mer)
US AND THEM Corn Rigs (Fruits de Mer)
RAZORBATS Maybe It's Time To Break Up The Band (Voices Of Wonder/VME)
BLACK WHISKEY Eat You Alive (Curtain Call Records)
AVALANCHE Sweet Baby Brown Eyes (indie)
FIGHT THE FADE Monster (FiXT)
WIG WAM Out Of The Dark (Frontiers)
---
[05.02.23]
KOBURG Beauty In The Fight (indie)
RIIVER BRUKES Little Black Book (indie)
MERCY KELLY Fever (indie)
DESERT STORM Cheyne Stoking (APF Records)
MONROE Tides (Imagen Records)
REDLIGHT KING Evil Lies (AFM Records)
LANSDOWNE Filthy (AFM Records)
KLONE Apnea (Kscope)
SCHIZO FUN ADDICT Fate Chaser (Fruits de Mer Records)
SIENA ROOT Leaving The City (Atomic Fire Records)
MARY MOUNTFIELD This One's For You (indie)
FANCHON Preliminary (indie)
MOTIVE BLACK Caged (AFM Records)
POWERWOLF Poison (Napalm Records)
---
[29.01.23]
FEENSTRA & SIMPSON Your Eyes Gave You Away (indie)
PROGedia We Are The Night (indie)
THE LILAC HOUR Call Me (Bread And Butter Records)
SLEEP IN MOTION Awake (indie)
STANDING CREW Burn In Hell (Like Me) (Sodoh Records)
THE ANSWER Livin' On The Line (Golden Robot Records)
DIRTY LACES All I See (Golden Robot Records)
RONNIE ROMERO No More Tears (Frontiers)
THEM GUNS (Golden Robot Records)
THE BLOODSHOTS Go To Hell (indie)
SEEKING AKIRA Metaphors (FixT)
MIKE ROSS The Preacher (indie)
ANCHOR LANE I Don't Have Another Soul To Pour (indie)
SUASION Celestial (Atomic Fire Records)
---
[22.01.23]
JOSH TAERK Sunday Session
---
[15.01.23]
happydaze Cool Blue (Thriller Records)
YOU ME AT SIX Mydopamine (Underdog Records/AWAL Recordings)
EMPYRE Hit And Run (KScope)
ADAM MASTERSON Take A Little Love (indie)
FLOOR JANSEN Invincible (indie)
SHANA CLEVELAND Faces In The Firelight (Hardly Art Records)
THE HAYLEY GRIFFITHS BAND Far From Here (indie)
SIENA ROOT Keeper Of The Flame (Atomic Fire Records)
FURY WEEKEND Delirious (FixT)
WREX Recovery (Favour The Brave Records)
SLOW CINEMA Sizzler (Bread And Butter Records)
POP EVIL Dead Reckoning (MNRK Heavy)
THE SURVIVAL CODE The Heart Will Bleed (Good Deeds Music)
THE ANSWER Want You To Love Me (Golden Robot Records)
APE SHIFTER Promises Of A Progressive Future (Brainstorm Records)
---
[08.01.23]
MOTIVE BLACK Purge (AFM Records)
PALACE OF THE KING I'm Sorry Blues (indie)
FLIGHT Don't Ask (indie)
THE ANIX Frozen Waves (FiXT)
NARROW HEAD Gearhead (indie)
LETTERS SENT HOME Phoenix (indie)
THE HAYLEY GRIFFITHS BAND Melanie (indie)
LITTLE LORE Normal (indie)
VOID CHAPTER Drones (indie)
THOUSAND YEARS WIDE Yesterday (indie)
BROKEN SIDE Cartographer (indie)
MAMMOTH MAMMOTH Love Gun (Golden Robot Records)
VAI/GASH Let's Jam (Favored Nations/Mascot)
JUPITER ZEUS Falling Down (indie)
LANSDOWNE Falling Down (AFM Records)
---
[01.01.23]
GENGHIS NASH Running Out Of Time (Golden Robot Records)
ARMOR FOR SLEEP New Rainbows (Rude Records/Equal Vision Records)
BRIGHTER THAN A THOUSAND SUNS Futureblind (FiXT)
DESOTO JONES Get Well (Revolver Records)
ATTIC THEORY Narrow Lines (Arising Empire)
THEM GUNS Dark Side (Golden Robot Records)
EMPYRE Relentless (KScope)
JORDAN RED Awake (indie)
THE LA MAYBE Down To Fight (indie)
THE NEW DEATH CULT Superglue (indie)
EXPLORING BIRDSONG Ever The Optimist (Long Branch Records)
FIGHTING COLOURS Wishing Well (indie)
DJERV Enemy (indie)
THE ANSWER Want You To Love Me (Golden Robot)
LEE SMALL The Unknown (Metalville)
---
New to GRTR! Index (2020-2022)
---
In: