A weekly mix of new and classic rock, signposting forthcoming gigs and tours.  Broadcast live on Sundays.
In the second hour 'Live Legends' features two tracks from significant live artists whilst 'Anniversary Rock' picks out some events this week in rock music history.
Celebrating his 500th show, David chats to Todd Rundgren in the first hour.  In the second hour he plays a selection of show favourites 2007-2017.
Sunday 21 May: ANETTE OLZON (February 2014), CLARK DATCHLER (Johnny Hates Jazz, February 2016)
Monday 22 May: STEVE LUKATHER (May 2014), JOEY TEMPEST (Europe, October 2013)
Friday 26 May: BOB CATLEY (Magnum, December 2016), STEVE HOGARTH (Marillion, July 2014)
30.04.17
BOBBY KIMBALL Too Far Behind, We're Not In Kansas Anymore (2017) 3:36
BLONDIE Long Time, Pollinator (2017) 3:15
TODD RUNDGREN Naked & Afraid, White Knight (2017) 3:56
DEVON ALLMAN Butterfly Girl, Ride Or Die (2016) 4:34
ROBERT CRAY Don't Be Afraid Of The Dark , Consequences (1990) 3:43
PROCOL HARUM Sunday Morning, Novum (2017) 5:28
RAY DAVIES Mystery Room , Americana (2017) 3:51
LISBEE STAINTON Gloria, Then Up (2017) 3:48
ELEANOR McEVOY She Had It All, Snapshots (1999) 4:43
DEBORAH BONHAM Black Coffee, The Old Hyde (2005) 4:22
ANDY TIMMONS Cry For You, That Was Then & This Is Now (2002) 6:55
GARY MOORE The Loner, Wild Frontier (1987) 5:55
BLUES IMAGE (Feat.Mike Pinera) Come Back, Timeless (2017) 5:03
KOBRA AND THE LOTUS Light Me Up, Prevail I (2017) 3:44
MAGNUM Vigilante, Escape From The Shadow Garden (2015) 5:23
BLUE OYSTER CULT Harvester Of Eyes, On Your Feet Or On Your Knees (1975) 4:58
LONELY ROBOT The Big Dream, The Big Dream (2017) 8:01
BIG BIG TRAIN As The Crow Flies, Grimspound (2017) 6:43
PATTO Give It All Away, Hold Your Fire (expanded, 2017) 4:14
KINKY WIZZARDS Kinky Joe From Mexico Burrito's, Quirky Musings (2017) 3:06
CREAM Spoonful, Fresh Cream (2017) 6:31
STATUS QUO This Is Me, The Party Ain't Over Yet (2005) 4:46
SPANDAU BALLET I'll Fly For You, Parade (expanded, 2010) 5:34
23.04.17
SNAKECHARMER That Kind Of Love, Second Skin (2017) 5:36
HAREM SCAREM Sinking Ship, United (2017) 4:17
KING KING A Long History Of Love, Standing In The Shadows (2015) 7:16
SWEET Love Is Like Oxygen, Hits (2013) 4:16
THE ALARM Father To Sun, Strength (2015) 4:09
OF MICE & MEN Real, Cold World (2016) 3:12
VINTAGE TROUBLE Total Strangers, The Bomb Shelter Sessions (2011) 3:33
ERIC GALES Swamp, Middle Of The Road (2017) 5:17
DANNY BRYANT Blood Money, BIG – Live In Europe (2017) 5:33
LAWRENCE JONES Addicted To Your Love, Take Me High (2016) 5:18
DEEP PURPLE The Surprising, infinite (2017) 5:57
THE JOKERS Hurricane, Hurricane (2015) 3:35
BLACKWATER CONSPIRACY Hanging Tree, Shootin' The Breeze (2017) 5:28
MARTIN TURNER Lorelei, New Live Dates (2016) 6:25
HAWKWIND Master Of The Universe, The Flicknife Years (1981-1988) (2014) 3:29
STEVE HACKETT Fifty Miles From The North Pole, The Night Siren (2017) 7:08
MARILLION The Leavers, F.E.A.R. (2016) 4:26
KINKY WIZZARDS Stompfoot Syndrome, Quirky Musings (2017) 4:32
MAGENTA Colours, We Are Legend (2017) 10:47
THE WHO Who Are You, Who Are You (1978) 5:05
ROD STEWART This Old Heart Of Mine, Atlantic Crossing (2009 edition) 4:07
JOHN 5 Beat It, God Told Me To (2012) 4:11
16.04.17
DEEP PURPLE Johnny's Band, infinite (2017) 3:51
PROCOL HARUM Can't Say That, Novum (2017) 4:44
FIREWIND Lady Of 1000 Sorrows, Immortals (2017) 4:44
ASH WILSON Broken Machine, Single (2017) 4:04
BLACK STAR RIDERS Testify Or Say Goodbye, Single (2017) 4:19
THUNDER She Likes The Cocaine, Rip It Up (2017) 4:33
MIKE GROGAN Let Me Feel The Rain, Too Many Ghosts (2017) 3:40
SIMON KIRKE Melting On Madison, All Because Of You (2017) 2:38
ROADCASE ROYALE Get Loud, Single (2017) 3:20
THE PRS BAND Runaway Train, Time To Testify (2017) 4:58
BLACKFIELD The Jackal, V (2017) 3:25
THEA GILMORE Sounds Good To Me, The Counterweight (2017) 3:24
AS LIONS White Flags, Aftermath EP (2016) 3:28
MIKE + THE MECHANICS Don't Know What Came Over Me, Single (2017) 4:17
ECLIPSE No Way Back, Monumentum (2017) 4:12
STEVE HACKETT Dancing With The Moonlit Knight, Genesis Revisited: Live At The Royal Albert Hall (2014) 7:53
JOE BONAMASSA I Gave Up Everything For You, 'cept The Blues, Live At Radio City Music Hall (2015) 6:07
WILLE AND THE BANDITS Crossfire Memories, Steal (2017) 3:43
STANLEY CLARKE Stories To Tell (feat. Allan Holdsworth), If This Bass Could Only Talk (1988) 3:46
GORDON GILTRAP/PAUL WARD A Promise Fulfilled, The Last Of England (2017) 3:31
MADISON VIOLET Don't Let Your Heart Be Troubled, The Knight Sessions (2017) 3:09
ERJA LYYTINEN Awakening, Stolen Hearts (2017) 4:01
MOLLIE MARRIOTT Control, Single (2017) 3:02
PINK FLOYD Keep Talking, The Division Bell (1993) 6:10
FLEETWOOD MAC In The Back Of My Mind, Behind The Mask (1990) 7:02
09.04.17
LITTLE RIVER BAND The Night Owls, The Big Box (2017) 6:15
MIKE PINERA Come Back, Timeless (2017) 5:03
PHIL COLLINS Another Day In Paradise, …But Seriously (1989) 5:22
PROCOL HARUM I Told On You, Novum (2017) 5:32
DEEP PURPLE On Top Of The World, Infinite (2017) 4:01
QUINN SULLIVAN Rocks, Quinn Sullivan (2017) 4:45
DANNY BRYANT Unchained, BIG – Live In Europe (2017) 6:50
KATATONIA Old Heart Falls, The Fall Of Hearts – Tour Edition (2017) 4:46
ALAN REED The Convenanter, Honey On The Razor's Edge (2017) 4:53
MASTODON Roots Remain, Emperor Of Sand (2017) 6:28
AS LIONS World On Fire, Selfish Age (2017) 3:38
DAN PATLANSKY Sonnova Faith, Single (2017) 4:05
ASIA The Face On The Bridge, Symfonia – Live In Bulgaria 2013 6:03
RAINBOW Man On The Silver Mountain, Memories Of Rock – Live In Germany (2016) 5:17
INVIDIA As The Sun Sleeps, As The Sun Sleeps (2017) 4:09
LITTLE HURRICANE Bad Business, (2017) 3:33
THE BLUE HORIZON Big House, Volume 1 (2016) 3:22
MAGENTA Legend, We Are Legend (2017) 11:32
PAUL MENEL AND THE ESSENTIALS Hey Did You Hear About Paul?, Spare Parts For Broken Hearts (2017) 4:37
STATUS QUO Ice In The Sun, Live At The BBC (2010) 2:14
PAUL McCARTNEY Get Me Out Of Here, New (2013) 6:16
ROBBY KREIGER Hypernova, In Session (2017) 4:59
ALICE COOPER Go To Hell, Brutal Tour Live (2014) 3:41
02.04.17
ASH WILSON Broken Machine, Broken Machine (2017) 4:04
DAN PATLANSKY Backbite, Dear Silence Thieves (2015) 3:51
TOSELAND Fingers Burned, Cradle The Rage (2016) 4:42
ECLIPSE Night Comes Calling, Monumentum (2017) 3:40
ONE DESIRE Straight Through The Heart, One Desire (2017) 5:45
VOODOO VEGAS Black Heart Woman, Freak Show Candy Floss (2017) 4:02
FROST* Lights Out, Falling Satellites (2016) 3:52
MAGENTA Pearl, Chaos From The Stage (2016) 9:10
PANIC ROOM Satellite, Essence (2015) 8:07
STEVE HACKETT West To East, The Night Siren (2017) 5:14
PROCOL HARUM Businessman, Novum (2017) 4:44
BITERS Vulture City, The Future Ain't What It Used To Be (2017) 3:13
THE QUIREBOYS Whippin Boy, Live In London (2010) 6:08
SUPERTRAMP Hide In Your Shell, Live In Paris '79 (2015) 6:57
WILLE AND THE BANDITS Miles Away, Steal (2017) 3:43
CHANTEL McGREGOR Like No Other, Like No Other (2011) 5:10
MASTODON Steambreather, Emperor Of The Sand (2017) 5:03
KXM Big Sky Country, Scatterbrain (2017) 4:38
ERIC GALES Carry Yourself, Middle Of The Road (2017) 5:23
JOAN OSBORNE One Of Us, Relish (1995) 5:21
DEPECHE MODE Where's The Revolution, Spirit (2017) 4:59
STARSHIP Nothing's Gonna Stop Us Now, No Protection (1987) 4:35
GENESIS Turn It On Again, Duke (1980) 3:51
---
26.03.17
SNAKECHARMER That Kind Of Love, Single (2017) 5:36
NIGHT RANGER Don't Let Up, Don't Let Up (2017) 4:24
ECLIPSE No Way Back, Monumentum (2017) 4:12
BONAFIDE Flipside Groovin', Flames (2017) 3:48
THUNDER The Enemy Inside, Rip It Up (2017) 3:09
PROCOL HARUM I Told On You, Novum (2017) 5:32
THEA GILMORE Sounds Good To Me, The Counterweight (2017) 3:24
AIMEE MANN Simple Fix, Mental Illness (2017) 4:12
HARROW FAIR Told A Lie To My Heart, Call To Arms (2017) 2:52
MADISON VIOLET How We See Live, The Knight Sessions (2017) 4:07
DREAM THEATER Peruvian Skies, Falling Into Infinity (1997) 6:41
FROST* Signs, Falling Satellites (2016) 6:36
FEEDER Universe Of Life, All Bright Electric (2017) 3:42
HOUSE OF LORDS Oceans Divide, Saint Of The Lost Souls (2017) 4:25
IRON MAIDEN El Dorado, En Vivo (2012) 5:52
CLIMAX BLUES BAND Couldn't Get It Right, Gold Plated (2013) 3:10
STEVE HACKETT In Another Life, The Night Siren (2017) 6:07
RENAISSANCE ILLUSION Beat Of The Earth, Through The Fire (2017) 4:14
THE MUTE GODS Hallelujah, Tardigrades Will Inherit The Earth (2017) 5:50
BLACKFIELD Lately, V (2017) 3:25
THE MURDER OF MY SWEET Shining After Dark, Echoes Of The Aftermath (2017) 6:01
FIREWIND Lady Of 1000 Sorrows, Immortals (2017) 4:44
THE PRS BAND Freedom, Time To Testify (2017) 5:04
HALL AND OATES Rich Girl, Rock 'N Soul Part 1 (2013) 2:26
ROLLING STONES Brown Sugar, Sticky Fingers (1971) 3:00
19.03.17
1. AS LIONS One By One, Single (2017) 3:31
2. KXM Obsession, Scatterbrain (2017) 5:39
3. KOBRA & THE LOTUS You Don't Know, Prevail 1 (2017) 4:22
4. MASTODON Show Yourself, Single (2017) 3:11
5. BLACK STAR RIDERS Fade, Heavy Fire (2017) 4:22
6. MARTIN TURNER Falling Sands, Written In The Stars (2016) 5:17
7. WILLE AND THE BANDITS Miles Away, Steal (2017) 3:43
8. DEEP PURPLE All I Got Is You, Infinite (2017) 4:57
9. SAMANTHA FISH Hello Stranger, Chills & Fever 92017) 4:23
10. VANESSA COLLIER Cry Out, Meeting My Shadow (2017) 3:20
11. ROADHOUSE ROYALE Get Loud, Single (2017) 3:16
12. SAAICHI SUGIYAMA BAND Somewhere Down The Road, Single (2017) 3:47
13. MADISON VIOLET Same Sun, The Knight Sessions (2017) 3:05
14. OH SUSANNA Walked All The Way Home, A Girl In Teen City (2017) 3:12
15. AMY LEE Speak To Me, Single (2017) 4:35
16 INVIDIA Feed The Fire, As The Sun Sleeps (2017) 3:47
17. ARCH ENEMY You Will Know My Nam,e As The Stages Burn! (2017) 4:32
18 PAUL RODGERS Fire And Water, Live At Montreux (2011) 4:04
19. JOE BONAMASSA Distant Lonesome Train, Blues Of Desperation (2016) 5:51
20. CHUCK BERRY Roll Over Beethoven, Wilko Johnson Presents (2016) 2:23
21. BLACKBERRY SMOKE Workin For A Workin Man, Like An Arrow (2016) 2:59
22. STEVE 'N SEAGULLS Burn, Brothers In Farms (2016) 4:17
23. ROYAL REPUBLIC Cry Baby Cry, We Are The Royal (2011) 2:38
24. MIKE TRAMP Leaving One Day, Maybe Tomorrow (2017) 4:37
25. CATS IN SPACE Too Many Gods, Too Many Gods (2015) 3:58
26. DEPECHE MODE The Worst Crime, Spirit (2017) 3:48
27. FEE WAYBILL Another Brick In The Wall Pt2, Pigs And Pyramids (2002) 3:59
28. BILLION DOLLAR BABIES I Miss You, Complete Battle Axe (2001) 3:21
29. THE STRANGLERS Hanging Around, Rattus Norvegicus (1977) 4:27
12.03.17
DEEP PURPLE Time For Bedlam, Single (2017) 4:36
THUNDER Shakedown, Single (2017) 4:08
MIKE + THE MECHANICS Don't Know What Came Over Me, Single (2017) 4:17
BONAFIDE Power Down, Flames (2017) 2:53
BAD TOUCH Heartbreaker, Soulshaker, Truth Be Told (2016) 2:51
FEEDER Paperweight, Single (2017) 3:17
SONATA ARTICA Closer To An Animal, The Ninth Hour (2016) 5:22
PLACE VENDOME Close To The Sun, Close To The Sun (2017) 4:39
HEADS, HANDS & FEET Warming Up The Band, Tracks Plus (2009) 3:25
JETHRO TULL Songs From The Wood, Songs From The Wood (2003) 4:52
AIMEE MANN Patient Zero, Single (2017) 3:41
ELEANOR McEVOY Take Me Home, I'd Rather Go Blonde (2010) 3:49
MADISON VIOLET Don't Let Your Heart Be Troubled, The Knight Sessions (2017) 3;09
THE PIERCES Kings, Creation (2014) 4:03
ERJA LYYTINEN Lover's Novels, Stolen Hearts (2017) 3:31
WALTER TROUT Haunted By The Night, Alive In Amsterdam (2016) 7:14
PROCOL HARUM Grand Hote,l In Concert (2009) 6:41
KING KING You Stopped The Rain Reaching For The Light (2015) 4:11
STEVIE NIMMO Ganbler's Roll Sky Won't Fall (2016) 6:38
BLACKFIELD The Jackal V (2017) 3:56
ALAN REED The Other Side Of Morning, Honey On The Razor's Edge (2017) 8:51
ANTHONY PHILLIPS God If I Saw Her Now, The Geese And The Ghost (1977) 4:13
BONNIE TYLER Believe In Me, Believe In Me (2013) 3:57
MANHATTAN TRANSFER Walk In Love, Single (1978) 3:02
STEREOPHONICS Maybe Tomorrow, You Gotta Go There To Come Back (2003) 4:32
05.03.17
LIONCAGE Secrets, The Second Strike (2017) 4:28
VEGA If Not You, Who We Are (2016) 4:44
DAN REED NETWORK Stand Tall, Fight Another Day (2017) 5:06
ASH WILSON Lonely Room, Broken Machine (2017) 4:09
THE PRS BAND Look At The Moon, Time To Testify (2017) 4:37
ERJA LYYTINEN Silver Stones, Stolen Hearts (2017) 4:43
SAIICHI SUGIYAMA BAND Somewhere Down The Road, Single (2017) 5:08
WILLE & THE BANDITS Atoned, Steal (2017) 4:09
BONAFIDE Keep A Safe Distance, Flames (2017) 4:11
BLACK STAR RIDERS True Blue Kid, Heavy Fire (2017) 4:17
THIN LIZZY Jailbreak, Jailbreak (2011 ed.) 4:12
YES Owner Of A Lonely Heart, Best Of (1993) 4:28
THUNDER Shakedown, Rip It Up (2017) 4:08
THE BITERS Stone Cold Love, Single (2017) 3:27
RUFUS & CHAKA KHAN I'm A Woman (I'm A Backbone), Stompin' At The Savoy (1983) 4:09
10cc Art For Art's Sake, In Concert (2014) 8:00
BLUE OCTOBER Time Changes Everything, Home (2016) 7:52
MARILLION You're Gone, Marbles (2004) 6:25
BLACKBERRY SMOKE Pretty Little Lie, Single (2017) 3:34
WILKO JOHNSON Sneaking Suspicion, Best Of (2017) 3:42
SAMMY HAGAR Stand Up, When The Party Started (2017) 5:56
LITA FORD Black Leather Heart, Time Capsule (2016) 3:33
THEA GILMORE You Spin Me Right Round (Like A Record), Liverpool The Number Ones Album (2008) 3:51
R.E.M. Losing My Religion, The Best Of (2003) 4:29
MICHAEL JACKSON Thriller, Thriller (1983) 5:57
---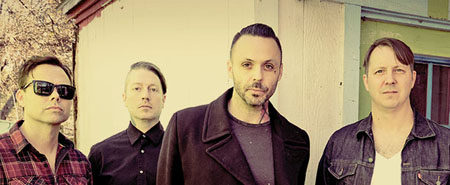 Sunday 26 February, 22:00
In the first hour of the show, David chats to Justin Furstenfeld of U.S. alt-rockers BLUE OCTOBER.  The band play rare UK dates 1-4 March

26.02.17
BLUE OCTOBER Coal Makes Diamonds, Home (2016) 5:03
BLUE OCTOBER The Feel Again (Stay), Any Man In America (2011) 5:59
BLUE OCTOBER The Lucky One, Home (2016) 5:39
BLUE OCTOBER Debris, Sway (2014) 6:38
BLUE OCTOBER Chameleon Boy, Foiled (2011) 5:29
BLUE OCTOBER We Know Where You Go, Home (2016) 4:23
BLACKBERRY SMOKE Pretty Little Lie, Single (2017) 3:34
DEEP PURPLE Black Night, Now What?! Gold Deluxe Edition (2013) 9:04
THUNDER Low Life In High Places, All You Can Eat (2016) 6:10
DAN REED NETWORK Give It Love, Fight Another Day (2016) 4:42
BLACK STAR RIDERS Who Rides The Tiger, Heavy Fire (2017) 4:20
ERJA LYYTINEN Awakening, Stolen Hearts (2017) 4:01
CHANTEL MCGREGOR Walk On Land, Lose Control (2016) 7:30
COSMOSQUAD Beyond Death's Door, The Morbid Tango (2017) 4:48
PETER SARSTEDT You Crazy Fool, England's Lane (2016) 4:10
PINK FLOYD Arnold Layne, The Early Years (2016) 2:56
LED ZEPPELIN Dazed & Confused, BBC Sessions (2016) 6:39
19.02.17
1. FIREWIND Lady Of 1000 Sorrows, Immortals (2017) 4:44
2. DAN REED NETWORK Champion, Fight Another Day (2016) 4:28
3. ASH WILSON Broken Machine, Single (2017) 4:04
4. THUNDER Heartbreak Hurricane, Rip It Up (2017) 4:45
5. BLACK STAR RIDERS Who Rides The Tiger, Heavy Fire (2017) 4:20
6. CHRIS THOMPSON Blinded By The Light, Jukebox (2015) 4:04
7. YOSO White Sister, Elements (2010) 6:17
8. JETHRO TULL A New Day Yesterday, Stand Up (1968) 4:10
9. THE PRS BAND Moving Mountains, Time To Testify (2017) 5:01
10. ROADCASE ROYALE Get Loud, Single (2017) 3:16
11 COCO MONTOYA Old Habits Are Hard To Break, Hard Truth (2017) 5:34
12. SAMMY HAGAR Tropic Of Capricorn, When The Party Started (2017) 4:32
13. FEEDER Another Day On Earth, Single (2017) 3:51
14. DERRINGER Rock And Roll, Hoochie Koo, Derringer Live (Box, 2016) 8:45
15. WISHBONE ASH The King Will Come, Access All Areas (2015) 7:19
16. URIAH HEEP Words In The Distance, Words In The Distance (Box, 2016) 4:44
17. PRIDE OF LIONS The Silence Says It All, Fearless (2017) 4:31
18. CREAM Spoonful, Full Cream (2017 ed.) 6:31
19. HERBIE HANCOCK The Traitor, Man-Child (2016 ed.) 9:33
20. PATTI AUSTIN/JAMES INGRAM Baby Come To Me, Single (1983) 3:36
21. FLEETWOOD MAC Dreams, Rumours (1977) 4:15
22. SANTANA The Calling Jam, Supernatural (2010) 4:29
12.02.17
1. COLIN BLUNSTONE On The Air Tonight, On The Air Tonight (2012)
2. PAUL CARRACK How Long, Paul Carrack Greatest Hits (2006)
3. MIKE + THE MECHANICS Silent Running, Hits (2005)
4. BLUE OCTOBER The Lucky One, Home (2016)
5. THUNDER Right From The Start, Rip It Up (2017)
6. BONAFIDE Harmony, Bombo (2013)
7. MONSTER TRUCK To The Flame, Sittin' Heavy (2016)
8. TRIVIUM Until The World Goes Cold, Silence In The Snow (2015)
9. DIAMOND HEAD Play It Loud, Lightning To The Nations (2016)
10 THE PRS BAND Look At The Moon, Time To Testify (2017)
11. RUFUS & CHAKA KHAN Ain't Nobody, Stompin' At The Savoy Live (1983)
12. RAMSEY LEWIS Sun Goddess, Hot Dawgit The Anthology (2016)
13. STEPHEN PEARCY I Know I'm Crazy, Smash (2017)
14. TRAFFIC Low Spark Of High-Heeled Boys, On The Road (1973)
15. BLACKFIELD Lately, V (2017)
16. PHIL LYNOTT Growing Up, Gas Tank (2017)
17. SUZI QUATRO CC Rider, Gas Tank (2017)
18. IAN PAICE Possibly, Gas Tank (2017)
19. PAUL RODGERS Born Under A Bad Sign, Muddy Waters Blues (1993)
20. FROST* Numbers, Falling Satellites (2016)
21. DAN McAFFERTY The Great Pretender, Dan McCafferty (1975)
22. EMERSON LAKE & PALMER A Time And Place, Tarkus (1971)
23. CREAM Badge, Goodbye (1969)
[05.02.17]
1. JOHN WETTON Space And Time, Battlelines (1994) 4:03
2. JOHN WETTON Nothing's Gonna Stand In Our Way, Rock Of Faith (2003) 5:35
3. ASIA An Extraordinary Life, Phoenix (2008) 4:56
4. BLACK STAR RIDERS Dancing With The Wrong Girl, Heavy Fire (2017) 3:21
5. THUNDER She Likes The Cocaine, Rip It Up (2017) 4:33
6. WILLE & THE BANDITS Miles Away, Steal (2017) 3:43
7. SKARLETT RIOT Tear Me Down, Tear Me Down (2013) 4:31
8. OLIVER DAWSON SAXON Princess Of The Night, Blood And Thunder Live (2014) 4:34
9. STEVE HACKETT In The Skeleton Gallery, The Night Siren (2017) 5:09
10 VANGELIS My Face In The Rain, Delectus (2017) 4:22
11. FIREWIND Warriors And Saints, Immortals (2017) 4:10
12. SOTO When I'm Older, Inside The Vertigo (2016) 3:53
13. THE PRS BAND Runaway Train, Time To Testify (2017) 4:58
14. JO HARMAN Silhouettes, People We Become (2017) 6:03
15. MICHAEL SCHENKER Dancer, Fest Live In Tokyo (2017) 4:56
16. DREAM THEATER Pull Me Under, Live At Luna Park (2014) 8:29
17. DGM The Secret Part 2, The Passage (2016) 7:26
18. ROADHOUSE ROYALE Get Loud ,Single (2017) 3:16
19. JOE LYNN TURNER Hellraiser, The Sessions (2016) 5:36
20. WOLF PEOPLE Salts Mill, Ruins (2017) 5:55
21. TOTO I Won't Hold You Back, Toto IV (1983) 4:59
22. MOTLEY CRUE If I Die Tomorrow, Red White & Crue (2005) 3:40
23. PETE TOWNSHEND Give Blood, Face The Face (2016) 6:06