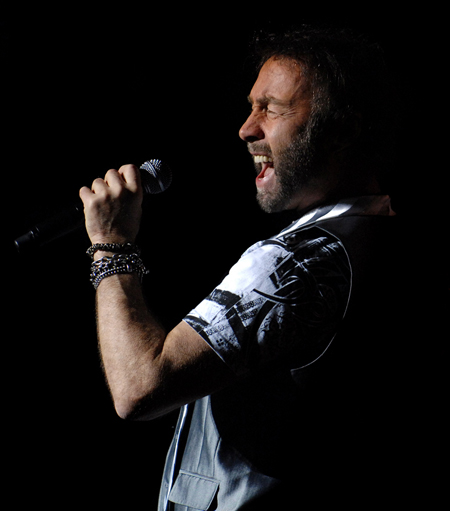 News: PAUL RODGERS captures the spirit of Free on tour in May 2017
14 April 2017 News
---
In April 2011 David Randall chatted to Paul Rodgers for Get Ready to ROCK! Radio's "Heroes" series.
In this exclusive edit, Paul chats about Paul Kossoff, the formation of Free and the hit single 'All Right Now'. (11:23)

Paul Rodgers tours in the UK from 5 May with Special Guest Deborah Bonham. Both are Featured Artists at Get Ready to ROCK! Radio. For this latest excursion he celebrates the music of Free.
Says Paul: "It was 50 years ago in 1967 when Paul Kossoff and I met and later formed Free. We first jammed together at the Fickle Pickle Blues Club in Finsbury Park, we wanted exactly that, to be free to play the music that we loved, blues and beyond. We knew we had something special between us when people told us that when we played time stood still.
He brought in the rhythm section, Simon Kirke from his band The Black Cat Bones and found the advertisement at the Nags Head Battersea for a "Bass player ex-John Mayall looking for a gig", Andy Fraser.
The springboard for this tour have been the various charity gigs when Paul Rodgers plays Free material with Deborah Bonham's band. The name of the tour actually comes from a pony saved by the Willows Animal Sanctuary, the charity of whom Rodgers is a patron, and who was called "Free Spirit".
Deborah Bonham, interview/feature (April 2015)
UK Tour
05 May Glasgow, Clyde Auditorium
07 May Newcastle, City Hall
08 May Manchester, O2 Apollo
10 May Bristol, Colston Hall
12 May Plymouth, Pavilions
14 May Oxford, New Theatre
17 May Leicester, De Montfort Hall
19 May Sheffield, City Hall
20 May Nottingham, Royal Concert Hall
22 May Westcliff-on-Sea, Southend, Cliffs Pavilion
23 May Ipswich, Regent Theatre
25 May Portsmouth, Guildhall
27 May Birmingham, Symphony Hall
28 May London, Royal Albert Hall
---