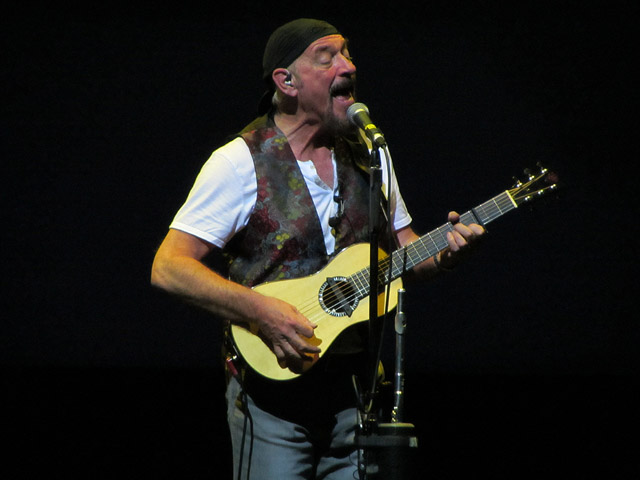 News: JETHRO TULL celebrate 50 year anniversary with UK tour in April 2018
14 August 2017 News
---
In this extract, Ian Anderson chats about the 2018 tour plans (6:10)
Sunday 3 September 2017, The Pete Feenstra Feature, 20:00
Tuesday 4 September, 16:00; Thursday 6 September, 23:00 (repeat)
Ian Anderson chats about Jethro Tull's 50th anniversary celebration in 2018
---
Ian Anderson celebrates 50 years since Jethro Tull graced the stage at the world-famous Marquee club in February 1968.
50 years of Jethro Tull will be presented in eight UK concerts during April 2018 as part of the worldwide touring schedule.
The tour will reinforce Jethro Tull's credentials as one of the most popular and durable progressive rock acts of all time.  The anniversary concerts will feature a broad mix of material, some of it focussing on the earlier formative period through to albums such as  Crest Of A Knave and even TAAB2 from 2012.
Anderson says: "I am not usually a birthday or anniversary kind of guy but, just for once, I won't be a party-pooper either! I treasure the memories of the earlier years of Jethro Tull repertoire, associated as it is with the adventures of visiting so many countries for the first time to connect with new fans around the world. And this is a celebration of all the 33 band members who graced our ranks."
April 2018
Tuesday 3rd Manchester O2 Apollo
Thursday 5th Newcastle City Hall
Friday 6th Edinburgh Usher Hall
Saturday 7th Liverpool Auditorium
Monday 9th Bristol Colston Hall
Tuesday 10th Birmingham Symphony Hall
Wednesday 11th Cambridge Corn Exchange
Tuesday 17th London Royal Albert Hall
Pre-sale Tickets available on 30th August: http://www.gigantic.com/jethro-tull-tickets-presale-1051 and venue box offices. Tickets are subject to booking fee. There is no support – please see ticket for start time.
Ian Anderson is accompanied by Tull band musicians David Goodier (bass), John O'Hara (keyboards), Florian Opahle (guitar), Scott Hammond (drums) and surprise virtual guests
---
DRandall 50th anniversary, April 2018, blues rock, Ian Anderson, Jethro Tull, rock, tour, UK