News: Get Ready to ROCK! celebrates 20th Anniversary 2003-2023 (October 2022)
25 September 2022 News
---
Popular rock music website Get Ready to ROCK! will be celebrating its 20th anniversary from October 2022.
The website soft-launched in October 2002 and since that time has become a popular destination online for authoritative music reviews and interviews.
In 2008 the website created its own dedicated radio station Get Ready to ROCK! Radio.  The station reflects the broad coverage of the review website.
Says News and Reviews Editor Jason Ritchie: "From the start we have covered a wide range of styles and genres in the main reflecting our reviewers' interests.  We cover rock, blues, singer songwriter, progressive as well as more eclectic artists."
Managing Editor David Randall added: "Unique amongst websites over an extended period we have retained a core team of really well informed reviewers who are experts in their field  and very good writers.  This gives our website credibility and continuity."
"From a promotional point of view, for labels and artists, our coverage has been persistently at the top of Google when searching for specific albums or gig reviews.  In an age when many value instant exposure via social media our reviews have both early visibility but also great longevity."
To coincide with the anniversary year launch David has written a 2000 word essay about the state of rock music in 2022.  This is based on his own observations over two decades.
"Most recently rock music has been affected by the pandemic but also, going forward, an economic crisis.  It's never easy for rock artists especially new bands but we have tried to highlight the realities whilst we continue to support new artists who may have limited access to more mainstream – including print – media."
By the end of 2022 the reviewers will list their favourite albums and live acts during a twenty year period.  This will coincide with the website's usual end of year "Best of" selections for albums, live and breakthrough acts.  This listing has become a useful archive for significant albums and artists for any given year since 2013.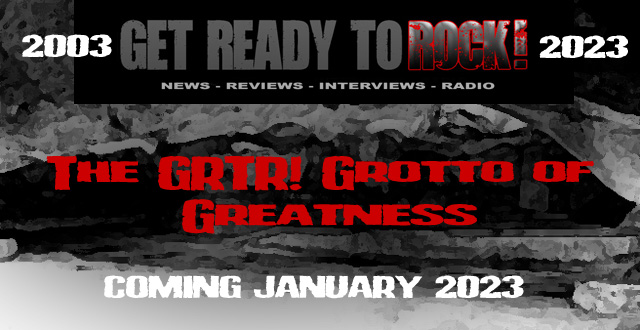 Every month in 2023 (until October) the website will announce a nominated band for "The GRTR! Grotto of Greatness", a variant of the "Hall of Fame" concept.
Says Jason: "We will be recognising the achievements of 10 selected artists who have consolidated their appeal since the early millennium, or grown their fanbase, via quality albums and live shows.  They'll have featured regularly in our pages and we'll be highlighting our archive but also updating with new material.  Genre experts will also contribute their own analysis."
Additional information
Get Ready to ROCK! was started in 2002 by David Randall whose background was in website creation for a number of artists and labels and as a published author.  Jason Ritchie had started a "Classic Rock Newswire" blog and approached David to contribute reviews to a rock review website that he managed.  The idea of their own review website was born.
Get Ready to ROCK! Radio broadcasts 18 hours a day and was launched in 2008.  The playlist reflected activity at the review website whilst expanding the number of interviews.  The online radio player links to an associated album review where possible.
Although primarily a continuous music station, David Randall and Pete Feenstra present regular shows.  Pete is a music impresario/writer and blues expert and has won several awards for his informed broadcasting.
---
DRandall 2003-2023, 20th anniversary, albums, blues rock, classic rock, Get Ready to ROCK!, gigs, interviews, melodic rock, progressive rock, reviews, singer songwriter