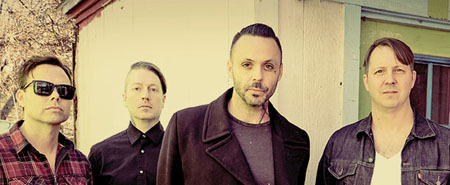 News: BLUE OCTOBER – UK dates and radio interview (26 February 2017)
26 February 2017 News
---
Blue October play rare dates this week in the UK.
The Texas-based alt rock band released their current album, 'Home', in April 2016.  It is their fifth consecutive Billboard Top 20 record.
The success of the album and singles forced the postponement of UK dates in autumn 2016 and the dates have been rearranged for 1-4 March.  To coincide there is the release of a radio edit of the first song on the album 'Coal Makes Diamonds'.
Fronted by their songwriter and dynamic vocalist Justin Furstenfeld the band have scored several Top 40 Billboard singles in their home territory with songs like 'Hate Me', 'Bleed Out', 'Fear' and 'Home'.  The first of these hits was included on their fourth album, the platinum selling 'Foiled' (2006)
Blue October's latest album charted simultaneously at No 1 on the Billboard Alternative, Rock and Independent Charts.
On Sunday 26 February in the first hour of his weekly show on Get Ready to ROCK! (22:00 GMT) Radio David Randall chats to Justin Furstenfeld on the eve of the UK gigs.
UK dates
01.03.17  BIRMINGHAM  O2 Institute
02.03.17  MANCHESTER  O2 Ritz
03.03.17  LONDON  O2 Academy Islington  SOLD OUT
04.03.17  LONDON  O2 Academy Islington
---
DRandall Blue October, interview, Justin Furstenfeld, March 2017, UK tour