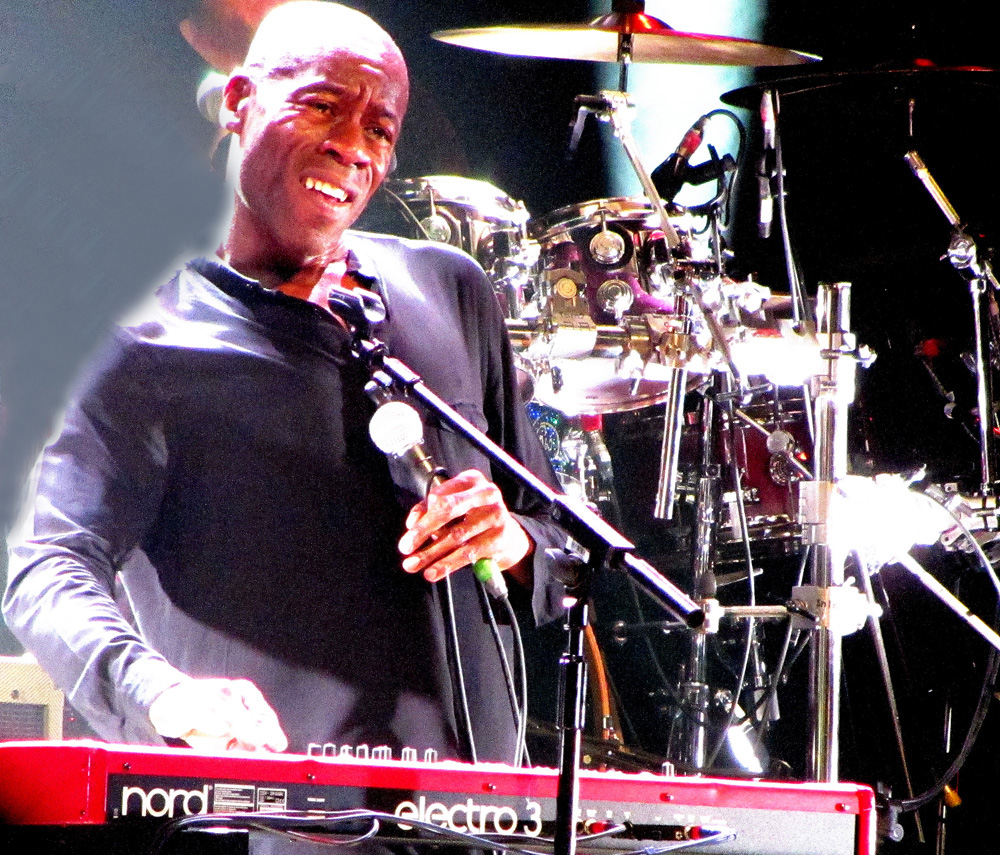 News: ANDREW ROACHFORD – UK tour continues until 7 December
27 October 2017 News
---
Following another hugely successful tour with Mike + The Mechanics, Andrew Roachford hits the road again with his own band, October – December .
Andrew's current album is 'Encore' which features his unique interpretations of some classic tracks.  His eclecticism has been evident from the early days of his musical career when he worked in the studio with The Clash as a teenager and then developed a rock/soul vibe for a series of successful solo albums in the late-1980s to the late 1990s.  He was Columbia's biggest selling domestic act for a decade and the first to sign a staggering seven-album deal with the label.
He says "I've never categorized music, I listen to music that moves me…. and that's what inspires my writing".  For the past four years he has been an integral part of Mike + The Mechanics,  writing and singing for a band that has itself experienced wide success since the late-1980s.
The Encore album includes versions of Sly Stone's 'Family Affair',  Bill Withers' 'Grandma's Hands' and Simply Red's 'Holding Back The Years'.  Andrew continues:  "This album showcases some of the songs that have fired me up over the years to become a performer.  I once read that a sign of a good singer wasn't just about ability but more importantly about someone that when they sang you believe every word ".
UK Tour dates
OCTOBER
27 Southhampton – The Brook, 466 Portswood Rd, Southampton SO17 3SD www.the-brook.com/ 8:00pm. £15.00 Adv £17 door 023 8055 5366
28 Seaton (Devon) – The Gateway Seaton Town Hall, Fore Street, EX12 2LD 01297 625699 www.seatongateway.co.uk/ 7:30pm £15.
NOVEMBER
2 Chester – The Live Rooms, 1 Station Road. 01244 318906. https://www.theliverooms.com/ 7:00pm £16 + B/Fee
3 Darwen – Library Theatre, Knott Street. BB3 3BU 0844 847 1664 https://darwenlibrarytheatre.com/ 7:00pm. £15.00Adv £17 door
4 Selby – The Venue, 72 Ousegate YO8 4NJ 01757 707998 http://www.seetickets.com/ 7:00pm. £15+B/Fee
10 Newcastle – O2 Academy, Westgate Road Newcastle upon Tyne NE1 1SW0191 260 2020
https://academymusicgroup.com/o2academynewcastle/ 6:30pm. £18.70 inc B/fee
11 Glasgow – Oran Mor, Byres Road G12 8QX7: 0141 357 6200 https://oran-mor.co.uk/ 7pm. £18.50.
12 Aberdeen – The Assembly , 3 Skene Terrace AB10 1RN 01224 641122 http://www.aberdeenperformingarts.com/ 7:00pm. £18 NYL 17/7/17
17 Hull – Fruit, 62-63 Humber Street HU1 1TU 01482 221113 www.fruitspace.co.uk/ 7.30pm £18+ B/fee
18 Norwich – The Waterfront Studio, 139-141 King Street. NR1 1QH – 01603 508050 https://thewaterfront.ticketabc.com/ 6:30pm. £17.60inc B/fee
19 Lewes – The Con Club, 139 High Street. 139 High St, Lewes BN7 1XS – 01273 473076 www.lewesconclub.com/ 7:30pm. £16. NYL 17/7/17
24 Farncombe – St John's Church, St John's Street GU7 3EJ – 01483 426353 http://www.julianlewrymusic.com/concerts 7:45pm £18 adv + B/fee £22 door
25 Islington – O2 Academy, N1 Centre, 16 Parkfield Street N1 0PS – 020 7288 4400 https://academymusicgroup.com/o2academyislington/
6:30pm. £22.50 + B/fee
DECEMBER
1 Manchester – Academy 3, Oxford Road M13 9PR www.manchesteracademy.net/ 0161 832 1111 7:30pm. £16+ B/fee
2 Bedford – Esquires. 60A Bromham Road MK40 2QG www.bedfordesquires.co.uk/ 8:00pm. £16 Adv
7 Douglas Isle of Man – Villa Marina Prom Suite, 15 Harris Promenade. IM1 2HP 8:00pm. £18 https://villagaiety.ticketsolve.com/shows?tag=music
Artist website
Featured Artist
---
DRandall 2017, andrew roachford, mike + the mechanics, November, October, rhythm & blues, rock, soul, UK tour