Steve Hackett
---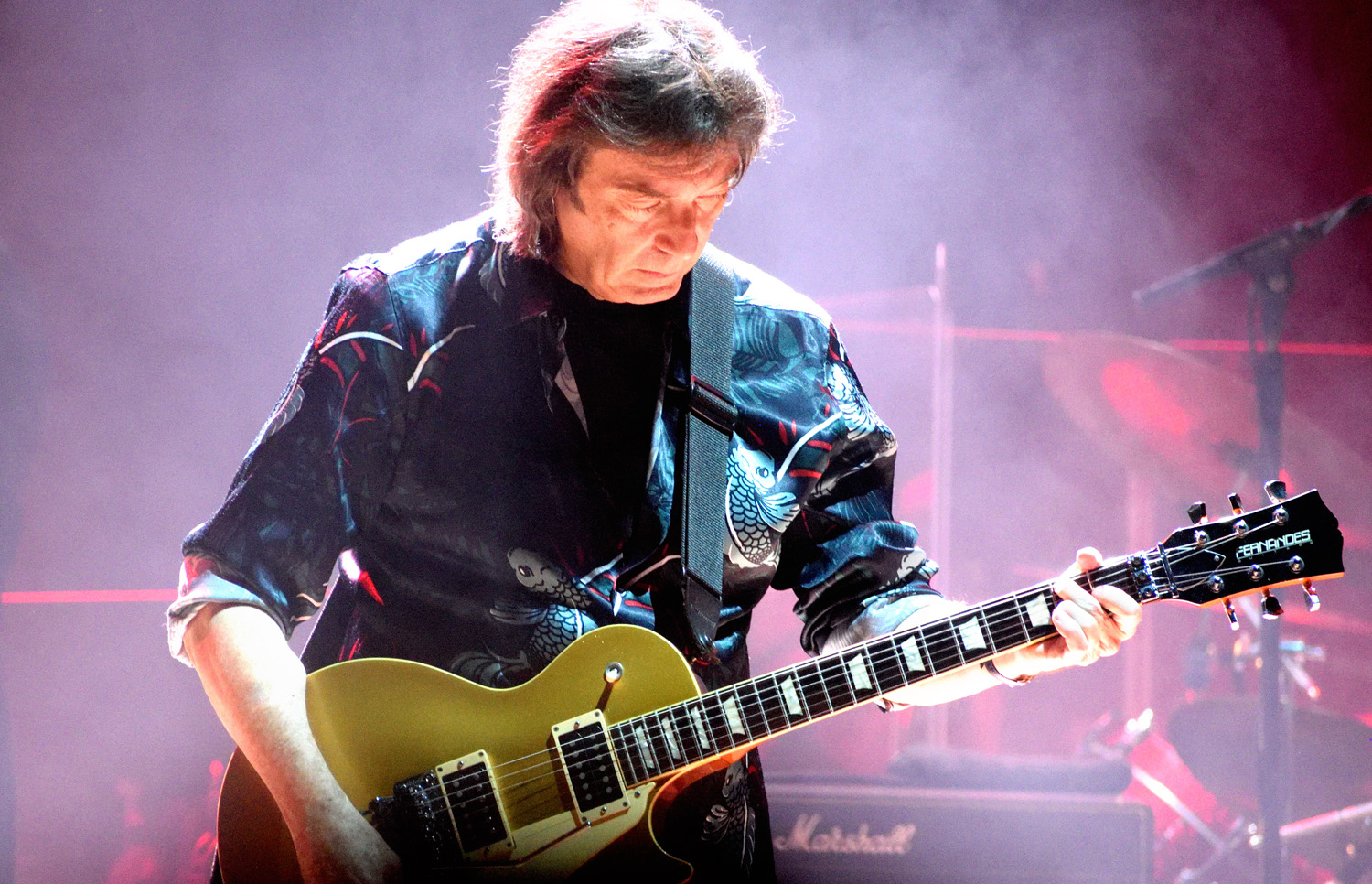 Steve Hackett features in our progressive and classic rock sequences.
Steve Hackett replaced Anthony Phillips in Genesis in 1970 and stayed with the band through their formative prog-rock period recording eight albums. His first album with the band – Nursery Cryme – was released in November 1971 and he quickly stamped his individual style on such songs as 'The Musical Box' and, later, with 'Watcher Of The Skies' (from Foxtrot, 1972) and 'Firth of Fifth (from Selling England By The Pound released in 1973). During his time with Genesis he released the solo album Voyage To The Acolyte in 1975.
Hackett's tapping and sweep-picking guitar techniques foreshadowed guitarists like Eddie Van Halen and Yngwie Malmsteen.
He left Genesis in 1977 to pursue a solo career and released his second solo album in May 1978, Please Don't Touch. In the eighties, he released a couple of albums Bay Of Kings and Momentum which highlighted his classical guitar skills. Since that time he has released several acoustic-based albums, including work with his brother, the flautist John Hackett.
Steve Hackett's album release 'Genesis Revisited' (two volumes, 1996 and 2012) set the scene for a Genesis revival in his stage shows and since 2013 he has been touring regularly.  In 2017 he appeared with a full orchestra, whilst in 2019 he featured the whole of 'Selling England By The Pound'.  This trend will continue in 2020 when he showcases the live Genesis album 'Seconds Out'.
In the meantime he has also released solo albums, including 'At The Edge Of Light' (2019), 'The Night Siren' (2017) and 'Wolflight' (2015).
July 2020 saw the publication of Steve Hackett's autobiography "A Genesis In My Bed".
It was announced on 27 August 2023 that Steve Hackett is the September entrant in "The GRTR! Grotto of Greatness" a year-long feature to coincide with the 20th anniversary of www.getreadytorock.com
A major retrospective will be published by the website on 1 September, with more of his music added to our general playlists.
News item (August 2023)
---
Broadcast history
"Steve Hackett Special"
First broadcast Sunday 24 September 2018
Steve chats to David Randall ahead of the autumn orchestral tour.
"Assume The Position"
First broadcast Sunday 29 March 2015
Steve chats about new album 'Wolflight'
"Genesis Revisited"
First broadcast 5 October 2014
Steve Hackett chats about the Genesis phenomenon
February 2012, Featured Artist
"Assume The Position"
First broadcast Sunday 29 January 2012
David Randall chats to Steve Hackett about his career on the eve of the release of his new album, 'Beyond The Shrouded Horizon'.
"Favourite Tracks from Favourite Artists"
First broadcast 29 January 2012
"Steve Hackett Day", Sunday 29 January 2012
"The Guitarists"
First broadcast Sunday 11 September 2011
Steve chats about his career
"Rockwaves"
First broadcast Sunday 14 November 2010
Keith Thompson chats to Steve Hackett about his album 'Beyond The Shrouded Horizon'
November 2010, Featured Artist
October 2009, Featured Artist
---
LINKS
Steve Hackett website
Album review & interview (Wolflight, 2015)