Stackridge
---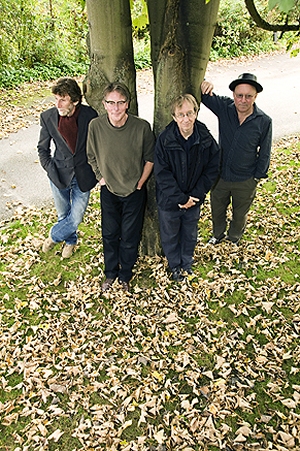 Stackridge feature in our progressive rock sequences.
Stackridge formed in the late-sixties and opened (and closed) the very first Glastonbury Festival in 1970. To some extent their rambling (if well received) early live performances were reined in for their debut album, released in August 1971.
It wasn't until their third album 'The Man With The Bowler Hat' in 1974 that expectation for the band was heightened and a larger budget enabled the production work of George Martin. A fuel crisis at the time which reduced record vinyl production delayed the album release for six months which wasn't to help the band's momentum.
In spite of good reviews for their eclectic mix of folk, prog and pop and high-profile tours with bands including Wishbone Ash and Jethro Tull, Stackridge failed to achieve wider commercial acclaim and personnel changes and a switch to Elton John's Rocket label was not helpful. In any event it is unlikely, with the onset of punk in the late seventies, that the band would have survived.
Founder members Andy Davis and James Warren then took a more commercial route forming The Korgis who hit paydirt in 1980 with the international hit 'Everybody's Got To Learn Sometime'. After this successful collaboration, the pair pursued separate musical paths with Davis doing session work in the eighties with the likes of Tears For Fears.
It wasn't until the late 1990s that there was renewed interest in the band with the release of some BBC live recordings and by 1999 Stackridge had reformed and produced an album 'Something For The Weekend' but this time without Davis due to musical differences.
Since 2005, stimulated by the reissue of the band's back catalogue by Angel Air Records, Stackridge in pretty much original form (occasionally Mike 'Mutter' Slater and Jim 'Crun' Walter drop out due to personal commitments) have prevailed and in 2009 released a new studio album 'A Victory For Common Sense'.
A new compilation was released by Angel Air Records and in April 2012 the band started an extensive UK tour.
They announced their "Final Bow" tour in 2015, taking them up to Saturday 19 December 2015 when they played their last gig at The Fiddlers , Bristol.
James Warren released a new solo album in 2017 and currently tours with The Korgis as that band celebrate their 40th anniversary,
---
Broadcast history
"The Songwriters" – James Warren
First broadcast 25 June 2017
"The Songwriters" – Andy Davis
First broadcast Sunday 30 December 2012 (Part 1), Sunday 31 December (Part 2)
---
LINKS