Sonja Kristina (Curved Air)
---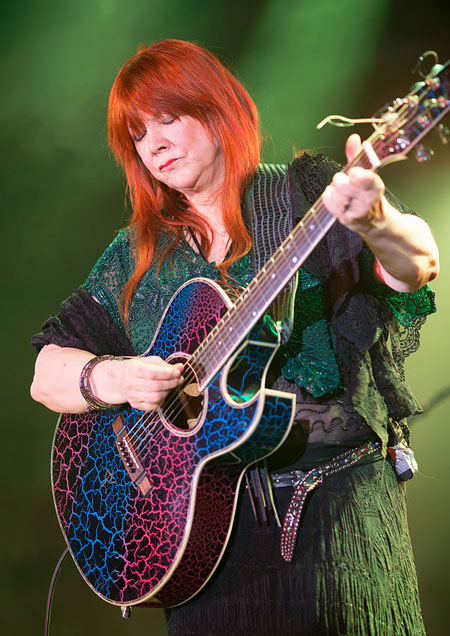 Sonja features in our progressive and classic rock sequences.
Sonja Kristina joined Curved Air in January 1970 after a successful stint in the stage musical 'Hair'.
In the sixties, influenced by Sandy Denny and Buffy St.Marie, she had played in folk clubs. With Curved Air she was voted 'Best Female Vocalist' in Sounds music paper in 1971 when she was also regarded as something of a sex symbol although this aspect was more fully developed after the mid-1970s.
Whilst Curved Air achieved some success, including a Top 5 single with 'Back Street Luv', they had several line-up changes and in 1976 succumbed to musical differences and differing musical trends with the onset of punk.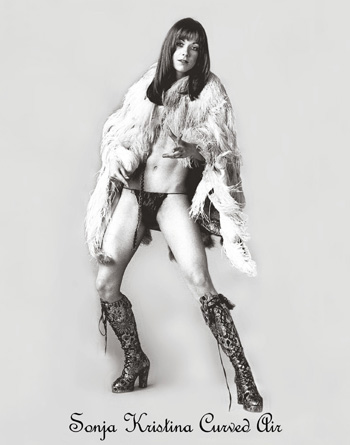 After releasing her first solo album in 1980, with her then band Escape, Sonja spent much of that decade raising a young family. By 1988 she was gigging again and is generally regarded as a pioneer at that time of "acid folk" when she hooked up with Ty-Lor and Friends and in 1991 released 'Songs From The Acid Folk'.
In 1994 she made the album 'Harmonics Of Love' which introduced electronica influences, a style further developed after she met composer/producer Marvin Ayres. Their joint project – Mask – produced two albums, 'Heavy Petal' in 2005 and 'Technopia' in 2009.
At various times, Sonja had been involved with Curved Air "revivals", in the mid-1980s even making a single under that name with violinist Darryl Way and a live band album was recorded in 1990. However it wasn't until 2008 that the present line-up of the band developed, initially with Darryl Way but subsequently with Paul Sax on violin (a one-time member of Sonja's acid folk band Cloud Ten) and – from late-2013 – with original seventies guitarist Kirby Gregory. The band's studio album 'North Star' was released in March 2014 to positive reviews.
Sonja has been described as "one of modern music's true journey women and pioneers" and has also been involved in stage plays, TV shows and education, including a teaching post at Middlesex University.
In Part 1 Sonja chats about Curved Air
In Part 2, Acid Folk and her work with Marvin Ayres in Mask.

---
Broadcast history
First broadcastSunday 3 May 2015 (Part 1), Sunday 31 May 2015 (Part 2)
David Randall chats to Sonja Kristina about her musical journey.  Includes music from all aspects of her career.
---
LINKS