Maggie Reilly
---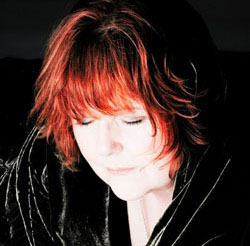 Our usual afternoon song selection is spiced with music from Maggie Reilly.  (Mon-Fri 14:00-16:00)

Maggie Reilly fronted the highly rated Scottish band Cado Belle in the late-seventies but she came to wider notice with Mike Oldfield in the 1980's and sang lead vocal on two international hits: Moonlight Shadow and Family Man.
Since that time she has pursued a solo career, and her more recent albums have settled into a classic singer songwriter style some way apart from the electro/pop path she followed at the turn of the eighties.
She released the album 'Looking Back Moving Forward' in January 2009 which revisits some of her keynote songs from a career spanning nearly forty years.
Maggie's latest studio album – 'Heaven Sent' – was released in October 2013.
---
Broadcast history

"The Songwriters"
First broadcast Sunday 8 March 2009
David Randall talks to Maggie about her career
"Favourite Tracks from favourite Artists"
First broadcast 10 May 2009
"The Eclectic Mix"
First broadcast 15 December 2013
This is a brand new sequence based on a recent interview with Maggie ahead of her London show on Monday 16 December
---
Maggie Reilly's Favourite Tracks
FINN BROTHERS – Only Talking Sense
JOHN MARTYN – Solid Air
THE CURE – Lovesong
TOM PETTY & THE HEARTBREAKERS – Luna
THE CARDIGANS – Love Fool
CROSBY & NASH – Wooden Ships
DR JOHN – Rain
THE EVERLY BROTHERS – Price Of Love
---
LINKS
Maggie Reilly website
Album review (Heaven Sent, 2013, and archive review link)