Geoff Downes
---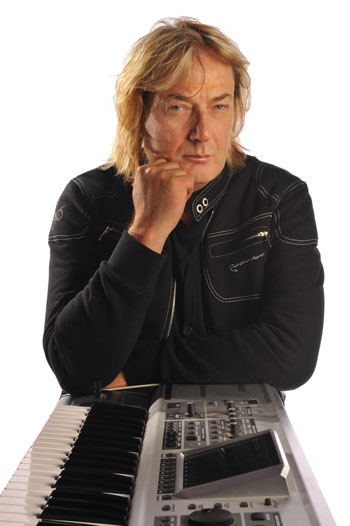 Geoff Downes appears in our instrumental and classic rock sequences.
Before his wider success with Trevor Horn in The Buggles, in the late-seventies, Geoff Downes had fashioned his career in session work and composing film/TV music and jingles. 'Video Killed The Radio Star' was an international hit in 1979 and the video for that song was the first shown on the MTV channel in 1981.
Downes (and Horn) had been asked to join Yes in 1980 and appear on the album 'Drama' but that band split in 1981. Downes' next band Asia included Steve Howe (Yes), John Wetton (King Crimson) and Carl Palmer (ELP) . The debut album came out in 1982 and was an immediate success, although the classic and original line-up were only together until 1984.
Since that time, Geoff Downes became the standard-bearer for Asia and remained in each line-up. The original line-up reformed in 2006 for the album 'Phoenix' and have released three albums since then including the latest 'XXX' in July 2012.
Downes rejoined Yes for a Stateside tour in 2011 and recorded the album 'Fly From Here'. He is still touring with the band.
Geoff Downes has an interesting solo discography reflecting his instrumental prowess ('The Light Program', 'Vox Humana' and 'World Service' amongst others) but he's also appeared on many sessions including albums with Alan White (Yes), Kate Bush, and more recently The Producers, reuniting him with Trevor Horn.
---
Broadcast history
"The Songwriters"
First broadcast Sunday 8 July 2012
Geoff Downes chats to David Randall about the Asia album 'XXX' and his wider career
"Favourite Tracks from Favourite Artists"
First broadcast 25 October 2015
Geoff Downes chooses inspirational and influential tracks
---
LINKS
See also, John Wetton