Andy Latimer / Camel
---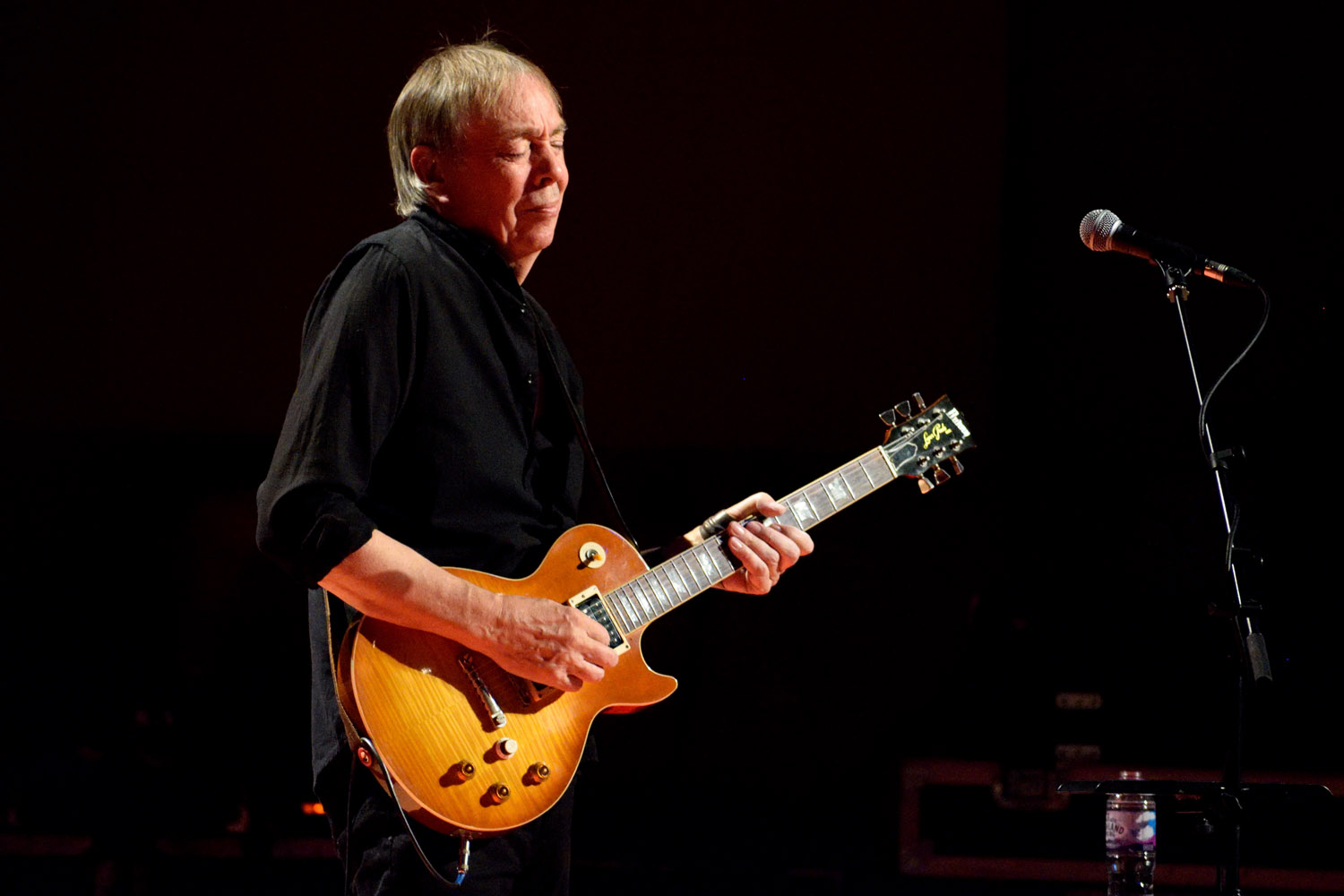 Andy Latimer/Camel feature in our instrumental and progressive rock sequences.
Camel gained a growing reputation in the early-1970s for their live shows (their first was with Wishbone Ash in October 1971) and were signed to MCA for their debut album in 1972. However it was with Decca that they had their greatest level of success, starting with their second album 'Mirage' (1974).
Many regard their greatest achievement as the concept piece released in 1975, 'The Snow Goose', which the band subsequently performed live with the London Symphony Orchestra.
The band's later albums for the label explored jazzier territory and the line-up included Richard Sinclair (vocals/bass), previously with Caravan, and Mel Collins (sax) who had played with King Crimson.
By the late seventies, the original line-up was imploding and keyboard player Peter Bardens, bassist Doug Ferguson (bass) and Andy Ward (drums) had left by 1981.
Andy Latimer soldiered on using a number of musicians including Colin Bass who would remain a faithful lieutenant up to and including the present. However by 1984 and after the album 'Pressure Points' the band were dropped by Decca. At this time, Latimer was also embroiled in a lawsuit with a former manager which he subsequently won.
Latimer decamped to the States and it wasn't until 1991 that another album appeared: 'Dust And Dreams'. It was during this decade that he was diagnosed with a blood disorder and later myelofibrosis which required a bone marrow transplant in 2007.
During the 1990s Camel continued to put out albums but any extensive touring was curtailed by Latimer's illness.
Most recently, in 2010 Latimer contributed to an album by Camel's video producer, David Minasian, (Random Acts Of Beauty) and it was evident that there was a slow, but steady 'comeback'.
In 2013, the band announced tour dates scheduled for October of that year. These were a resounding success and further dates were arranged for March 2014 with the main focus again on a slightly updated version of 'The Snow Goose' played in its entirety.
Although Andy Latimer was influenced by the blues rock greats of the sixties, like Clapton and Peter Green, in the seventies he fashioned his own lyrical guitar sound and Camel's albums and stage shows were characterised by his emotive and flighty, but always fluid solos. Although he never viewed Camel's music as 'progressive', the band have come to represent the pinnacle of that genre in the seventies. Although their flame burned less brightly in the decade after 1984 they continued to release albums on their own label which received warm approval from their loyal fanbase.
In late-2019 the band released a DVD/Bluray disc 'Live At The Royal Albert Hall' recorded in September 2018 when they played the 'Moonmadness' album in its entirety.
---
Broadcast history
"The Guitarists"
First broadcast Sunday 19 February 2014 (Part 1)
Andy Latimer talks to David Randall about the recent renaissance of Camel and the band in the seventies (Part 1)
2 March 2014 (Part 2)
Andy Latimer talks about the 1990s, his health issues, and guitar playing
Now available as a podcast (in iTunes)
---
LINKS