New to GRTR!
An hour of new music and latest playlist additions...
---
Sunday 21:00 Tuesday 16:00 repeat, Thursday 21:00 repeat
A round-up of latest playlist additions, new and forthcoming single and album releases with an emphasis on independent artists and labels.
---
Latest playlists
[25.10.20]
JOSH TAERK In Session
SIX FOOT SIX Welcome To Your Nightmare (Scarlet Records)
ALL RUNS RED What Good Would That Do (indie)
TRIDENT WATERS Six Feet Under (indie)
THE SENTON BOMBS Coaster (indie)
HOLDING ABSENCE Beyond Belief (indie)
---
[18.10.20]
THE SHARPEEZ Fooled Again (indie)
VERITAS Starlight (Veritas Rocks LLC)
LIONS SHARE Aim Higher (indie)
CALYCES THose Flames Are Dancing Wild (indie)
LYKANTROPI Axis Of Margaret (Despotz Records)
CHAOS DIVINE Instincts (indie)
RESTIVE NATION I'm Sorry (indie)
MARISA AND THE MOTHS Tied Up (indie)
PLINI I'll Tell You Someday (indie)
SCARLET Love Heroin (indie)
RED CAIN Varyag and The Shrike (Sliptrick Records)
THE DAMNED The Spider And The Fly (Search And Destroy Records)
VISION ETERNEL Moments Of Absence (Fruits de Mer)
---
[11.10.20]
HELLZ We Want Rock (indie)
WHEN RIVERS MEET Battleground (indie)
INTERVALS 5-HTP (indie)
STANDING LIKE STATUES Skylines (indie)
UNCUT Family Blues (indie)
GILBY CLARKE Tightwad (Golden Robot Records)
DEVILFIRE Gimme Shelter (indie)
JOHN FOGERTY Centerfield (BMG)
LARKIN POE Fly Away (Tricki-Woo Records)
MAY-A Apricots (indie)
MIKE LOWRY Invisible Scars (indie)
MIKE ROSS Don't Say A Word (Taller Records)
DORIS BRENDEL & LEE DUNHAM Other Side Of The World (Sky Rocket Records)
PRIDE OF LIONS Good Thing Gone (Frontiers)
WARRIOR SOUL Get Down Together (Livewire/Cargo)
COREY TAYLOR Halfway Down (Roadrunner Records)
---
[04.10.20]
CORY MARKS Blame It On The Double (indie)
ASHEN MOON Without Faith (Golden Robot Records)
SCUTTLERS Sun's Gone In On Me (Golden Robot Records)
MASON HILL Against The Wall (indie)
PALACE Way Up Here (Frontiers)
PAUL ROTH Murals (indie)
SNOWY WHITE Another Blue Night (Soulfood)
VAMBO Fast Car (indie)
WAIL Through The Ice (indie)
BAILEY TOMKINSON Silent Suffering (indie)
JESSICA LUNN Love Me That Way (indie)
MITCHELL KERSLEY Howlin At the Moon (indie)
MOON GOOSE Edible Druid (Fruits de Mer Records)
---
[27.09.20]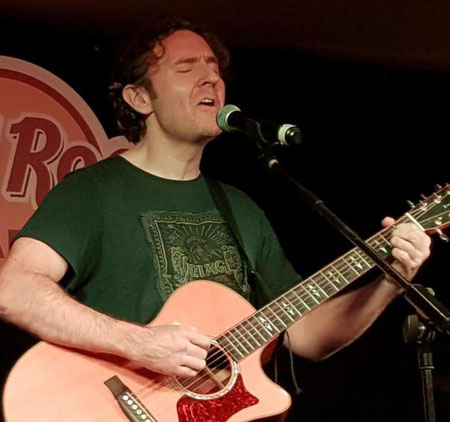 RONAN FURLONG In Session

Ronan is an Irish musician/songwriter who has been writing and performing his own material for over 30 years, characterised by strong melodies, a committed vocal style, skillful guitar playing, and refreshingly unique (and sometimes abstract) lyrical themes that complement and elevate the underlying song.
Ronan's interest in history and philosophy (Greek and Rome, in particular), is apparent from his lyrics. He feels that these ancient writings still hold valuable lessons for the 21st century and are as relevant today as they were 2,000 years ago.
In this exclusive session for GRTR! Ronan talks us through an acoustic set featuring songs from his albums 'Minerva's Meddling' and 'Diotima's Ascent'.  Of the former, Pete Feenstra wrote:
"He consistently aims to match his musical feel with related thematic content in an esoteric mix that makes 'Minerva's Meddling' worthy of your attention." The album made Get Ready to ROCK!'s albums of the month selection for April-June 2020.
Album review
Interview
Artist website
OUR OCEANS The Hearts Whisper (Long Branch Records)
EVERYDAY HEROES The Crow (indie)
MINEFIELD (Golden Robot Records)
COUSIN BETTY Drone (Golden Robot Records)
KNIFES The Comedown (indie)
---
[20.09.20]
JO BELOW Russian Roulette (Inverse Records)
DIESEL PARK WEST Surrender Shuffle (indie)
THE BEAUTY OF GEMINA A Night Like This (TBOG Music)
FUTURE PALACE Lately (Arising Empire)
BLACKTOP MOJO Signal's Gone (indie)
WICKED GARDEN Home Too Far (indie)
D.O.L. Devil Is In the Details (Inverse Records)
LASTWORLD – Judgement Day (Perris Records)
PHIL CAMPBELL & THE BASTARD SONS Son Of A Gun (Nuclear Blast)
SOUTH OF SALEM Pretty Little Nightmare (indie)
KOJ Human Love (Long Branch Records)
THE PETAL FALLS Workin' All Night Workin' All Day (indie)
DANIEL STRATMAN Feel Good Tonite (indie)
THE METAL BYRDS Dreamin' (indie)
---
[13.09.20]
PERFECT PLAN What About Love (Frontiers)
ROB MORATTI Drifting Away (AOR Heaven)
TO KILL ACHILLES 21:16 (Arising Empire)
AISLES Smile Of Tears (indie)
ROY ZIV Currents (indie)
NOVATINES Honey (indie)
PAVE THE JUNGLE The Hissing (indie)
KILFEATHER Never Stop (indie)
NIGHTMARE Lights On(AFM Records)
LIQUID THERAPY Breathe (indie)
ATTIC THEORY Your Light (indie)
SNOWY WHITE & THE WHITE FLAMES I Wish I Could (Soulfood Music)
LE ROUX The Song Goes On (indie)
---
[06.09.20]
BROTHER FIRETRIBE Chariot Of Fire (Odyssey Music)
JADED STAR Female Fronted (Noble Demon)
THE UNEVEN Punching Bag (indie)
OUR OCEANS Unravel (Long Branch Music)
GALLOWS CIRCUS Medicine Man (indie)
THE HAWKINS Stranger In The Next Room (The Sign Records)
MAXI CURNOW Fire Eater (indie)
RUSTY EYE This Is Permanent (Blood Blast)
EARTH'S YELLOW SUN Part III – Betrayal (indie)
CALYCES The Great Void (Zyse Records)
GRAVITY MACHINE Lifting Mountains (indie)
SAVANNAH POPE Freeway (indie)
BRUCE ENGLER Not You And Me (indie)
BROKEN MACHINE Sweet Mary Jane (indie)
ZAKK SABBATH The Wizard (Magnetic Eye Records)
---
[30.08.20]
THE GREAT LESLIE Money (indie)
ESCAPE THE FATE Walk On (indie)
FROM ASHES TO NEW Bulletproof (Better Noise)
DEAD REYNOLDS P.S. (I Loathe You)(indie)
OCEAN HILLS Santa Monica (AFM Records)
MANGOLIA BAYOU Sweet Magnolia (indie)
HECTOR GANNET Into The Deep (Gugar Records)
STARING INTO NOTHING Autumn (indie)
WINTER'S VERGE Dead Reckoning (indie)
VANISHING POINT Shadow World (AFM Records)
KISS THE GUN Enter The Gate (indie)
REACH Motherland (indie)
THE PETAL FALLS A Man In Chains (indie)
AGNES JONES Beautiful Freak (indie)
ACE FREHLEY We Gotta Get Out Of This Place (SPV)
[23.08.20]
SANDNESS Get It On (indie)
RESTIVE NATION Descent (indie)
CROWN OF GLORY Something (Fastball Music)
LEAVES EYES Black Butterfly (Nuclear Blast)
KOJ Human Love (Long Branch Records)
BITCH FALCON Test Trip (Small Pond Records)
CALL OF THE KRAKEN Seeing Double (indie)
PSYENCE Tusk (Black Belt Recordings)
RAZORWIRE HALO Cover My Eyes (indie)
SIXX:A.M. Maybe It's Time (Better Noise)
THE DAMNED Keep 'Em Alive (Search & Destroy Records)
EKKO PARK Oil And Water (Dinner For Wolves)
OVERLAND Diamond In The Dust (Escape Music)
THE DARKER MY HORIZON Sleaze (indie)
[16.08.20]
JOSH TAERK Session
KISS THE GUN Dreamer (KTG Records)
THE SUPREME ART OF NOTHING So This Is How It Goes (Whackshack Recordings)
KAT RIGGINS Meet Your Maker (Gulf Coast Records)
ADAM SWEET Like It Or Not (indie)
CONNOR BRACKEN AND THE MOTHER LEEDS BAND Dream Of You And Me (indie)
THE EXPLORERS CLUB One Drop Of Rain (Goldstar)
CALUM INGRAM Dancing In The Moonlight (indie)
[9.08.20]
ASHENMOON Future Kings & Queens (Golden Robot Records)
GHOSTS OF SUNSET Miles In Between (Golden Robot Records)
DEAD ROMANTIC All Talk (indie)
LOCATIONS Man Of God (indie)
THE MOJO SLIDE Not In My Name (indie)
FLIES ARE SPIES FROM HELL All The Smiles At Night (indie)
GLASS OCEAN Almaida (Wild Thing Records)
PROSPECTS – Orphic Trigger (indie)
L.A. GUNS Renegades (Golden Robot Records)
STORMBURST Highway To Heaven (AOR Heaven)
IN/VERTIGO Love Chaos (Rockshots Records)
TIM READ Waiting For The Sun (indie)
ARCTIC RAIN Night After Night (Frontiers)
SIMON SAYS Love Don't Come Easy (Escape Music)
[02.08.20]
SOUTH OF SALEM Cold Day In Hell (indie)
BLACK LESION Sins (indie)
DOWNTOWN MYSTIC Modern Ways (indie)
THE SENTON BOMBS Lake (indie)
CAROLINE JONES All Of The Boys (Social Family Records)
FRANKIE RAYE Theodora (indie)
RAIDER Tokyo (indie)
BLACK SUN Resist (Rockshot Records)
THE JAILBIRDS Dull My Brain (Golden Robot Records)
FROM ASHES TO NEW Scars That I'm Hiding (Better Noise Records)
JOYOUS WOLF Odyssey (Roadrunner Records)
HIGH SPIRITS Restless (High Roller Records)
THE TREND Don't Throw It All Away (indie)
AIRFORCE War Games (Pitch Black Records)
[26.07.20]
THE BEAUTY OF GEMINA Apologise (TBOG Music)
AGENCY V Never Meant To Be (indie)
REASONS BEHIND Living A Lie (indie)
JET SET CHEMISTRY Sleep (indie)
DDE's Lucy (indie)
COASTAL FIRE DEPT I Don't Wanna Hold Your Hand (indie)
IHSAHN Spectre At The Feast (Candlelight Records)
POISONOUS BIRDS We Can Never Not Be All Of Us (indie)
NINE LIES Fantasy Hill (indie)
RARITY Worn Down (New Damage Records)
HILLBILLY HERALD Born To Be Wild (Golden Robot Records)
FIGHT THE FIGHT Dying (Indie Recordings/Metal Blade)
FERREIRA Ashes Into Dust (indie)
KAASIN Runaway Train (Stream Peak Music)
VANISHING POINT The Fall (AFM Records)
[19.07.20]
This week's show includes the latest Lockdown Live session from canadian singer songwriter JOSH TAERK
DAVID MINASIAN So Far From Home (Golden Robot)
THE TREND Loving A Lie (indie)
KILFEATHER King Creep (Riot Records)
THE VENDETTAS Face To Face (Golden Robot)
HIGH SPIRITS Midnight Sun (Riot Records)
ONSLAUGHT Bow Down To The Clowns (AFM Records)
BITCH FALCON Gaslight (indie)
[12.07.20]
THE LONELY ONES Flash (indie)
DIANTHUS Realms (Deko Entertainment)
PSSR Last Time (Golden Robot Records)
PATRON Jump In The Fire (Klonosphere)
GIRL SKIN Soft Gun (Jullian Records)
JEALOUS OF THE BIRDS Young Neanderthal (Canvasback/Atlantic)
NICK HOWE Wide Awake (indie)
LAURA EVANS Running Back To You (indie)
KAROBELA Candy (indie)
GAZPACHO Fireworker (KScope)
GALLOWS CIRCUS Hell's Whiskey (indie)
CHERRY TRUCK Love Become Law (indie)
REACH The Law (indie)
TIRED RADIO Making Plans (Engineer Records)
[05.07.20]
THE NEW BARDOTS Yummy Yummy Yummy (Bongo Boy Records)
ZENITH MOON Gypsy (Golden Robot Records)
THE WINTER PASSING Melt (Big Scary Monsters)
BAND OF HEARTS Broken Wings (indie)
RARITY Leave It Alone (New Damage Records)
JET FUEL CHEMISTRY War (indie)
PHOXJAW Teething (Hassle Records)
MIKE VASS Cold Iron (In The Wake Of Neil Gunn) (indie)
THE RISING I Want You (indie)
COUNCIL Haunts Me (indie)
LONERIVER Bond (indie)
THE FINAL CLAUSE OF TACTICUS War Elephant (indie)
JESSE SMITH The Last Night On Earth (indie)
ECHOBATS Save Me From Loving You (indie)
RAPHY & ADRY Samantha (Timezone Records)
[28.06.20]
JOSH TAERK Session
THE KENDALL COLLECTION Staring Back At Me (indie)
ROBERT HART Mysterious (Escape Music)
GENTLEMEN'S ACADEMY What The Rain's For (Cleopatra)
THE BIRTHDAY MASSACRE The Sky Will Turn (Metropolis Records)
BEFORE SUNDAY Goddess (Rockshots Records)
PSSR Busted (Golden Robot Records)
MASSIVE WAGONS House Of Noise (Earache)
[21.06.20]
THE DELLA GRANTS 2020 (indie)
HOOKERS & BLOW Ziggy Stardust (Golden Robot Records)
PRIMAL FEAR I'm Alive (Nuclear Blast)
OCEAN HILLS A Separate Peace (AFM Records)
EKKO PARK All Eyes On Me (Dinner For Wolves)
GRAND SLAM Long Road (Acoustic) (Marshall Records)
THE ALLMAN BETTS BAND Magnolia Road (BMG)
THE BLACK MOODS Sunshine (indie)
DJERV Throne (indie)
BLACK ORCHID EMPIRE Singularity (Long Branch Records)
MORDRED Not For You (indie)
WEG 90 Degrees (Inverse Records)
GILBY CLARKE The Gospel Truth (Golden Robot Records)
CICADASTONE Dying In Sunshine (Golden Robot Records)
WE'RE ALL ALIENS Second Chances (indie)
[14.06.20]
JOSH TAERK Session
JAMES WARREN Everybody's Got To Learn Sometime (Singsong Music)
SKYFEVER Is This The End Of The World (indie)
JD SIMO One Of Those Days (Crows Feets Records)
BEN WOOD & THE BAD IDEAS Take My World Away (indie)
MAGIC BREW The Fool (indie)
EBONIVORY Window Man (indie)
THE UNEVEN Punching Bag (indie)
[07.06.20]
STARLITE CAMPBELL BAND Stone Cold Crazy (Supertone Records)
GEEZER Dig (indie)
LYKANTROPI Coming Your Way (indie)
LICIGENIC Playtime (indie)
POISONOUS BIRDS Warm Jets (indie)
BEN HEMMING Hurricane (indie)
HELLINGS Stray (indie)
SKYLIGHTS Enemies (42s Records)
RESTIVE NATION Coma (indie)
GLASS OCEAN Voyage (Wild Thing Records)
BUTTERFLY Koko (indie)
INTENSE Children Of Tomorrow (Pure Steel Records)
HAXAN Killing Time (indie)
BARBARA BLACK Kissed By Flames (indie)
THE MOJO SLIDE Good Times (indie)
[31.05.20]
JOSH TAERK Session
SEREVA Pulling Strings (indie)
CHESTER KAMEN AND THE LOVES Americanized (indie)
MADAME MAYHEM Breaking Down (indie)
ALESTORM Pirate Metal Drinking Crew (Napalm Records)
VERITY WHITE Alibi (indie)
KOJ Pamela (Long Branch Records)
THE NYCHILLHARMONIC Mean (indie)
[24.05.20]
EBBA BERGKVIST & THE FLAT TIRE BAND Summer Nights (indie)
THE WALK-A-BOUT Victory Parade (Shred The Evidence Records)
BLURRED VISION Redemption (indie)
THE MERCY KILLS Alone (Golden Robot Records)
TOBY AND THE WHOLE TRUTH I Won't Be With You (Jepsongs Recordings)
DEAD REYNOLDS By Your Side (indie)
THE JAILBIRDS Watery Grave (Golden Robot Records)
NAIPIA Lonely (Golden Robot Records)
LOUISE LEMON Devil (Icons Creating Evil Art)
THE RISING Shadows On The Wall (indie)
ALI MASS & MICKY MOODY These Times (Last Man Music)
JOE LOUIS WALKER with Eric Gales – Comin' On (Cleopatra Records)
REACH The Law (Icons Creating Evil Art)
MASSIVE WAGONS Bangin In Your Stereo (Earache)
OZ Kingdom Of War (Massacre Records)
[17.05.20]
JOSH TAERK Session
I SEE HAWKS IN LA/GREAT WILLOW Radio Keeps Me On The Ground (indie)
JUDIE TZUZE Birds And Time (www.tzuke.com)
LATENIGHT HONEYMOON For Heaven's Sake (indie)
ZEBEDEE Messy Boy (indie)
YOUNG OTHER All Apologies (indie)
BLACK ORCHID EMPIRE Natural Selection (Long Branch Records)
SCARLET REBELS You Take My Breath Away (Rock Of Angels Records)
[10.05.20]
LETTUCE Blaze (Round Hill Records)
ROBIN GEORGE Summertime Reggae Rule (Singsong Music)
LOUISE LEMON Bathe In Gold (indie)
LOST TUESDAY SOCIETY Devil In A B&B (indie)
THE WINTER PASSING Resist (indie)
FLYING CIRCUS The Hopes We Had (in 1968)(indie)
GLASS OCEAN Beyond Us (indie)
CALLING ALL ASTRONAUTS New World Disaster (indie)
BLIND RIVER – Burn The Sun (indie)
BEYOND THE BLACK Wounded Healer (Napalm Records)
RAVENSCRY Binary (indie)
SHINING BLACK Just Another Day (Frontiers)
ME AND THE REST Mama (RockAvenger)
TOKYO MOTOR FIST Youngblood (Frontiers)
[03.05.20]
SAVANNAH POPE He Sees Me (indie)
BEN WOOD & THE BAD IDEAS Lead Me On (indie)
DESTRENDS Wastelands (Bread & Butter Records)
DEAD REYNOLDS Bright Lights (indie)
ATOMIC ANNIE Somebody To Love (indie)
ORBITAL JUNCTION Creep (indie)
FLASHFIRES Cezanne (indie)
THRUST Hazel Eyes (indie)
TWO CAR TRAIN Gone Away (indie)
TOKYO BLADE (Dissonance Productions)
THE AUTUMN KILLERS Chains (indie)
DION Blues Comin' On (Keeping The Blues Alive Records)
THE BAR STOOL PREACHERS When The World Ends Finally (indie)
EVERYDAY HEROES All Outta Faith (indie)
PRETTY MAIDS Sin (Frontiers)
[26.04.20]
JOSH TAERK Session
CHAMPLIN WILLIAMS FRIESTEDT All The Love In The World
THE CROOKS In Time (Golden Robot Records)
PASSION Poundcake (Frontiers)
SPIDERVAYNE Sundance (Roulette Media)
LYKANTROPI Summer Nights (Despotz Records)
[19.04.20]
NUMBER Red Flag (indie)
THUNDERMOTHER Driving In Style (AFM Records)
NIGHTBLADE Further From The Truth (indie)
BLACK ORCHID EMPIRE Death From Above (Long Branch Records)
CALIGUA'S HORSE Slow Violence (Century Media)
PSYCHOTIC WALTZ Demystified (Century Media)
HOLDING ABSENCE Birdcage (Sharp Tone Records)
BROTHER FIRETRIBE Bring On The Rain (Odyssey Music)
AXEL RUDI PELL Sign Of The Times (SPV)
DEVICIOUS Firefly (Metalapolis)
CAPTAIN BLACK BEARD Tonight (AOR Heaven)
CRYPTEX Haunted (SPV)
THE ALLIGATOR WINE Dream Eyed Little Girl (Century Media)
PAPAYA TREE Out In The Wash (indie)
[12.04.20]
TYPAN You're Coming With Me (indie)
TRIDENT WATERS Control The Animal (indie)
JUPITER HOLLOW Bereavement (indie)
ELEPHANT TREE Bird (indie)
BEFORE SUNDAY (Rockshots Records)
ONE DESIRE After You're Gone (Frontiers)
BILLY TALENT I Beg To Differ (This Will Get Better) (indie)
1000mods So Many Days (indie)
SPIRIT ADRIFT Starless Age (Enshrined)(Century Media)
BRETT COPELAND Lasso The Stars (indie)
GRACES COLLIDE Another Sun (indie)
LITTLE RED KINGS That's What You Do (indie)
[05.04.20]
JOSH TAERK Session
THE PETAL FALLS I Won't Be There (indie)
AOR The House Of Love (Perris Records)
FINAL COIL Conviction Of The Right (Wormholedeath)
NOBLE JACKS Ten Times (indie)
SKYFEVER The Wait (indie)
PALACE OF THE KING Tell It Like It Is (Devils Music Records)
SKYFEVER The Wait (indie)

[29.03.20]
MASSIVE WAGONS In It Together (Earache)
THE CROOKED 45 Future Scholars (indie)
PHOXJAW Half House (indie)
THE WILD! King Of The Town (eOne)
SKY VALLEY MISTRESS Lost In Shock (indie)
DEEPSHADE Soul Divider (indie)
EBONIVORY Explosions After Dark (indie)
JULIA MARCELL Nostalgic (Long Branch Records)
LOUISE LEMON Devil (Icons Creating Evil Art )
BLACK ORCHID EMPIRE Winter Keeps Us Warm (indie)
ONE DESIRE Shadowman (Frontiers)
CRYSTAL IGNITE Black Mamba (indie)
AWOLNATION The Best (Better Noise Music)
LEFTOVER BULLETS Confused (Sold Out Music Records)
PICTURESQUE ATTN: (Rude Records/Equal Vision Records)
[22.03.20]
REACH – Higher Ground (indie)
SKARLETT RIOT Human (indie)
STEEL CITY Hearts On Fire (Perris Records)
ROBBY KREIGER Slide Home (The Players Club/Mascot)
AMY BIRKS I Wish (indie)
MICHAEL ARMSTRONG Allentown (indie)
THE COVASETTES Spin (indie)
THE NATIONAL HONOR SOCIETY Turn Me On (Chien Lunatique Records)
AJNA Reneteg (Inverse Records)
DIRTY LACES You (indie)
MISSING PERSONS Incense And Peppermints (Cleopatra Records)
SILVERNITE Cry For Love (Valve Studio Records)
THE LOVETONES About The Girl (Cleopatra Records)
[15.03.20]
RAGDOLL Follow The Leader (indie)
REDNIGHT Rising Sun (indie)
PEPPERHEAD Watch You Fall (indie)
VICTORIA K Surreal (Rockshot Records)
THE BIRTHDAY MASSACRE Run (Metropolis Records)
BEFORE SUNDAY Goddess (Rockshots Records)
TALK SHOW Stress (Council Records)
DANI WILDE Howling At The Moon (indie)
LITTLE ALBERT Bridge Of Sighs (Aural Music)
JACK BROADBENT If (Crows Feet)
THE FINAL CLAUSE OF TACITUS Between The Lines (indie)
BONFIRE Rock N Roll Survivors (AFM Records)
THUNDERSTICK Earth Mother (indie)
FOXTON KINGS Getting Old (indie)
[08.03.20]
THE SLEEP EAZYS Bond (On Her Majesty's Secret Service) (Mascot)
EMPYRE You Know My Name (indie)
THE SONIC DAWN Children Of The Night (indie)
NOBLE JACKS Stay Awake (indie)
OLLIE TREVERS I Know You Know (indie)
EVERYDAY HEROES Standing Stones (indie)
VORSTELLAN Home (indie)
KOBURG The Eagle Has Landed (indie)
THE SLOW DAY Home (indie)
WE'RE ALL ALIENS Rosa Lee (indie)
CARRY THE CROWN Horizons (indie)
ELDER Embers (indie)
ONE DESIRE After You're Gone (Frontiers)
MATINEE Summer Sun (Neon Tetra Records)
[01.03.20]
UNPROCESSED Abandoned (Long Branch Records)
PRSNA Lions (indie)
METAL CHURCH Dead On The Vine (Reaper Entertainment)
TWO WEEKS TO NASHVILLE Take Control (indie)
KOJ Thunder (Long Branch Records)
LIGHT Time And Space (indie)
HARTMANN Glow (Pride And Joy Music)
BURNING WITCHES Black Magic (Nuclear Blast)
AS SIRENS FALL Holy Water (indie)
SCARLET AURA Stormbreaker (Silver City Records)
LUCIFER – Ghosts (Century Media)
GONE SAVAGE Love Caught Me Out (indie)
TUK SMITH & THE RESTLESS HEARTS (indie)
GENTLEMEN'S ACADEMY What The Rain's For (indie)
[23.02.20]
PUTA VOLCANO Black Box (indie)
BILLY TALENT Reckless Paradise (indie)
GILBY CLARKE Rock N Roll Is Getting Louder (Golden Robot Records)
ALLEN/OLZON Never Die (Frontiers)
DEVICIOUS Firefly (Metalapolis)
BENEATH MY SINS Temptation (Pride & Joy Music)
RAINIUM In The Dead Of Winter (indie)
THE DARKER MY HORIZON Monkey See, Monkey Do (indie)
THE FINAL CLAUSE OF TACITUS Between The Lines (indie)
INTECHNICOLOUR Big Sleeper (indie)
THE UNITY Angel Of Dawn (SPV)
VANISH We Become What We Are (Fastball Music)
SOLENCE Animal In Me (indie)
JULIA MARCELL The Odds (indie)
[09/02/20]
FRAMING HANLEY Puzzle Pieces (Thermal Entertainment LLC)
NEWMAN Ignition (AOR Heaven)
DECARLO Rock N' Soul (Frontiers)
JIMMY CARPENTER One Mint Julep (Gulf Coast)
JOHN BLUES BOYD What My Eyes Have Seen (Gulf Coast Records)
FELIX RABIN Gone (indie)
SUPERSUCKERS You Ain't The Boss Of Me (SPV)
BLACKELVIS Masquerade (indie)
SILVERTHORNE Tear The Sky Wide Open (Golden Robot Records)
KARNEY Trust (indie)
SIDEWALK SOCIETY A Saying For Today (Fruits de Mer Records)
LEVELLERS Food Roof Family (indie)
STONEWIRE Life As We Know It (indie)

[02.02.20]
DANIEL STEER Monster (indie)
CRIMSON STAR Living A Lie (indie)
FALSE HEARTS Remedy (indie)
AMONGST LIARS Over And Over (indie)
FLASHFIRES Circus Boy (indie)
MATT SPRINGFIELD Things I've Said (indie)
PHIL SAATCHI Time (indie)
STEVE HARLEY How Can I Tell You (indie)
MARTY AND THE BAD PUNCH Raging Fire (Enghardt Media/ Edel)
HARRY CHAPIN W.O.L.D. (Store For Music)
DYNAZTY Presence Of Mind (AFM Records)
NIGHTBLADE Only You (indie)
BROCARDE Love Me 'Til I'm Beautiful (indie)
JUPITER IN VELVET A Cooler Shade Of Mad (indie)
NORQUAY In Time (indie)
[19.01.20]
THUNDERSTICK Go Sleep With The Enemy (Roulette Records)
BUFFALO SUMMER Everybody's Out For No.1 (Silver Lining Music)
EMPYRE My Bad (indie)
ANCHOR LANE Dead Run (R7 Records)
GORILLA RIOTMind Your Head (Off Yer Rocka)
SERIOUS BLACK (AFM Records)
THE DEADNOTES Hopeless Romantic (22 Lives Records)
AMBERLY CHALBERG One Last Time (indie)
WKW Troubled Man (indie)
EMPTY FRIEND Neon (indie)
MARISA AND THE MOTHS Choke (indie)
A LIFE DIVIDED Anybody Out There (AFM Records)
STATE OF MILLENIA Sorry At The Start (indie)
MOLLY KARLOFF She Said (indie)
[12.01.20]
ANVIL Gasoline (AFM Records)
HAUNT Mind Freeze (Shadow Kingdom Records)
GUTTERFLOWER All I Want Is You (indie)
RAGE Tomorrow (SPV)
PASSION What Do We Want (Frontiers)
TINSLEY ELLIS Evil Till Sunrise (Alligator)
THORBORN RISAGER Last Train (Ruf)
THE RAGGED SAINTS Always Forever (AOR Heaven)
AUTUMN'S CHILD You're Breaking My Heart Again (AOR Heaven)
DIRTY SHIRLEY I Disappear (Frontiers)
STONE THIEVES Medicine Man (3MS Music)
DEWOLFF Nothing's Changing (Mascot)
HEAVY PETTIN Devil In Her Eyes (Burnt Out Wreckords)
WAITING FOR MONDAY Until The Dawn (Frontiers)
[05.01.20]
H.E.A.T Rise (Frontiers)
EASY ACTION Teachers Do It With Class (AOR Heaven)
A NEW TOMORROW Ignition (Frontiers)
EXPLORING BIRDSONG The Sinking Question (Long Branch Records)
KIWI JR. Football Money (Persona Non Grata)
GARY FLETCHER Something's Got To Change (indie)
JESSE DAMON Here Comes Trouble (AOR Heaven)
SHAFT OF STEEL Vulnerable Man (AOR Heaven)
GARY MOORE The Mojo Boogie (Mascot)
STORM FORCE Ride Like Hell (Escape Music)
MICHAEL THOMPSON BAND Secret Information (Frontiers)
KOBURG We Could Be Angels (indie)
SECRET RULE Digital Revolution (Pride & Joy Music)
---
In: