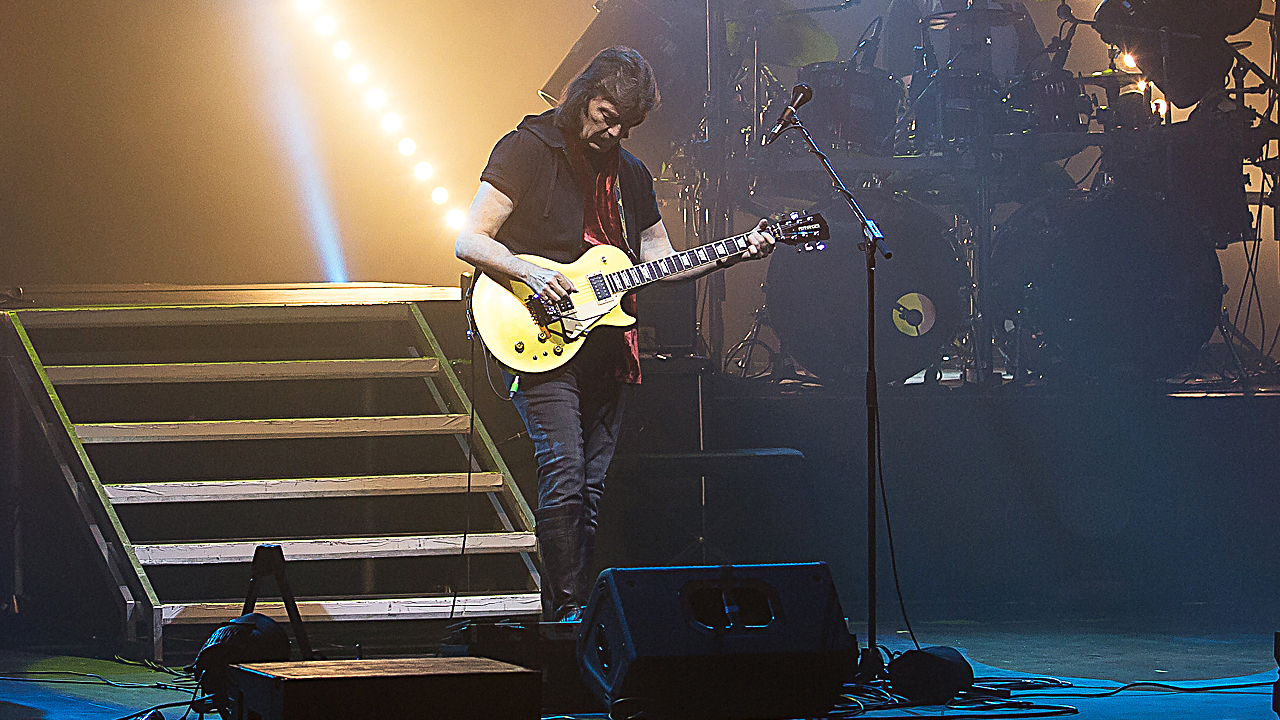 News: STEVE HACKETT is the latest entrant in The GRTR! Grotto of Greatness (September 2023)
11 September 2023 News
---
The latest entrant in Get Ready to ROCK!'s ongoing 20th anniversary promotion – "The GRTR! Grotto of Greatness" – is progmeister guitarist Steve Hackett.
Hackett's refashioning of classic Genesis seventies material coincides with the development of the website Get Ready to ROCK! (www.getreadytorock.com) and his progress has been charted via album and gig reviews and interviews.
Managing Editor David Randall has interviewed Steve several times for Get Ready to ROCK! Radio. "Steve is a real gentleman and always ready with a full answer to any questions. I was never a big fan of Genesis' seventies music but the truth is Steve has reimagined the songs, always with a crack band, and brought something extra which often makes them sound contemporary and very relevant.
I did follow Steve's solo output, off and on over the years, but when the radio station started in 2008 we quickly had to catch up in terms of adding his music to our playlists. I turned to long time fan and now our prog rock editor Alan Jones and temporarily relieved him of his complete collection for this purpose."
Together we put together an overview about his music as part of our Lockdown promotion "2020 Vision".
Alan Jones comments: "Since he became 'The Keeper of the Flame' of the Genesis back-catalogue with both the gigs and subsequent recordings, his audiences have grown exponentially, which is great, so long as people can see the bigger picture and take the time to further investigate Hackett's solo work – they have nearly thirty albums to choose from.
What they will find is the irrefutable truth that Steve Hackett, insofar as progressive rock is concerned, is the pre-eminent guitarist of his generation and who, hopefully, will be an inspiration to the next – no drugs, no playing it with his teeth, no amp wrecking – just pure, unadulterated talent."
David Randall adds: "The beauty of the featured artists in the "Grotto" series is that they reflect the interests and activity of many of our review team over an extended period. It might not always be healthy to have similar interests and passions but we've achieved a great consensus of consistency with the choice of artists. This is reflected in the major artist retrospective where we bring together our coverage over a two decade period."
The Steve Hackett retrospective is published 1 September.
September also sees the release of a new live album recorded during 2022.
Steve Hackett has recently completed a South American tour. He will be touring in the USA in October/November.
---
DRandall cats in space, classic rock, feature, Genesis, guitar, guitarist, pop rock, prog, progressive, retrospective, rock, Steve Hackett