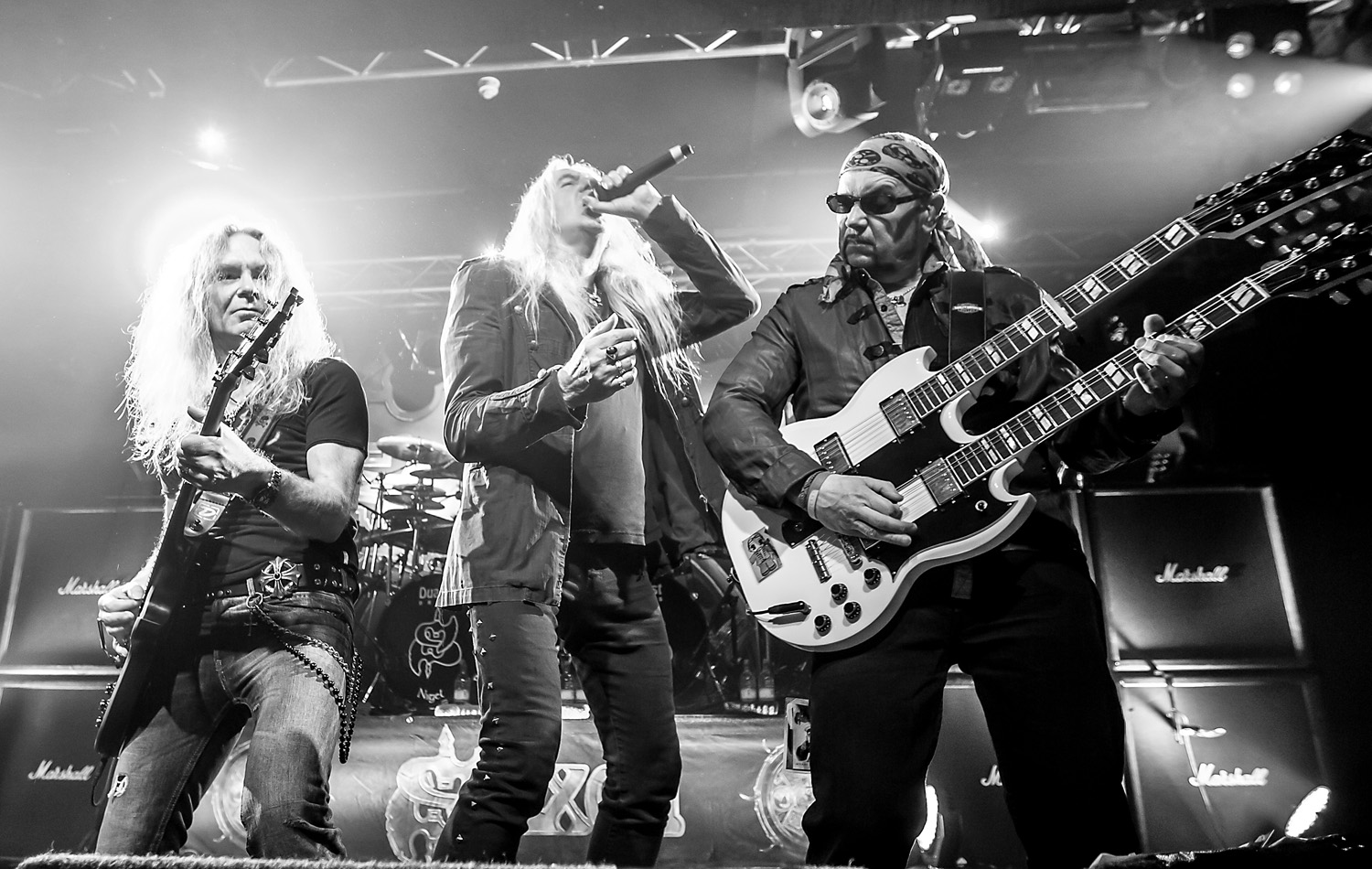 News: SAXON are the latest entrants in The GRTR! Grotto of Greatness (November 2023)
6 November 2023 News
---
Heavy metallers Saxon are the latest entrants to "The GRTR! Grotto of Greatness" a year long promotion to tie in with rock website Get Ready to ROCK!'s 20th anniversary.
The band's more recent ascendancy parallels the lifetime of the classic rock website Get Ready to ROCK!
Each month the website has selected an artist or band who have received regular coverage and who have shown consistency and quality over two decades.
As News and Reviews Editor Jason Ritchie says: "Once again the choice of Saxon reflects the band's popularity amongst our review team.  Time and time again the band are praised for their consistently good live shows when they are not averse to featuring a lot of  new material along with their classics.
Saxon formed in 1979 and by 2003, when the Get Ready to ROCK! website was officially launched, they were coming out of a chequered period  with a new line-up and a resolved legal battle over the use of the band name.
Their exposure on a reality TV show in 2007 led to renewed interest and chart success but the momentum was already building as they were frequently playing some of the major European festivals such as Wacken Open Air and Sweden Rock.
Long time fan and band advocate Joe Geesin adds: "During the millennium the band have embraced their new-found power metal heaviness with the band's roots, and in places symphonic, blues, rock'n'roll and prog metal. Then we get to their most recent album Carpe Diem (the covers albums aside), which is by far their heaviest yet."
Joe is a major contributor to the band retrospective to be published on 1 November.  This will also reflect the large number of reissues during the period, along with well received studio and live albums.
Jason continues: "We have just one artist to announce in this promotion (for December) but throughout the year the selected artists very much represent the popularity amongst our review team in general or their championing by specific reviewers."
EDITOR NOTE
The equivalent of the "Hall of Fame" the Grotto honours selected artists who have been covered consistently at rock website Get Ready to ROCK! over a period of 20 years. The promotion is part of the website's 20th anniversary celebrations and will feature a different artist or band each month in 2023.
The GRTR!@20 promotion celebrates 20 years of the popular rock website Get Ready to ROCK! The website's archive of reviews and interviews will be highlighted as well as new features celebrating 20 years of activity.
So far this year "The Grotto" has welcomed The Darkness (January), Chantel McGregor (February) , Eleanor McEvoy (March), Joe Bonamassa (April), Walter Trout (May), FM (June 2023), Marillion (July 2023),  Cats In Space (August 2023), Steve Hackett (September 2023), Thunder (October 2023).
The GRTR! Grotto
GRTR!@20 Home Page
---
DRandall Biff Byford, feature, heavy metal, heavy rock, history, news, retrospective, Saxon