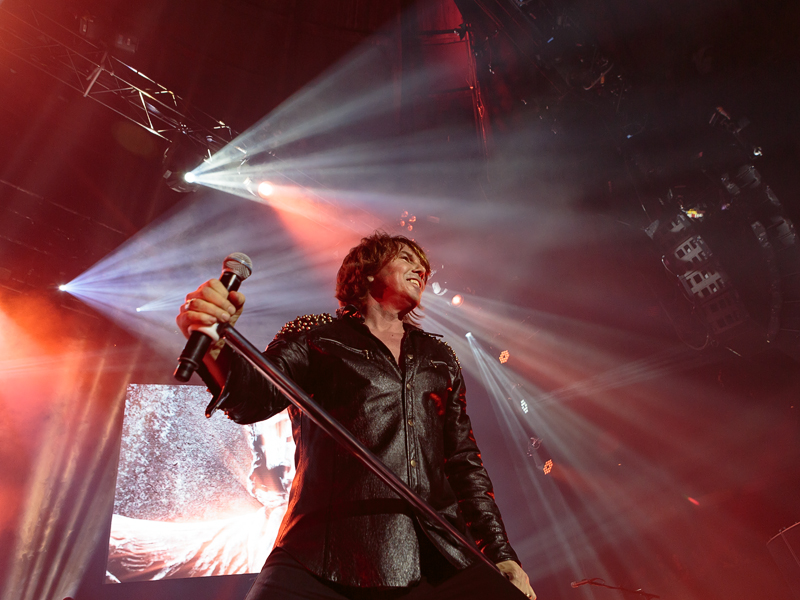 News: Get Ready to ROCK! Radio celebrates 10 years (September 2018)
3 September 2018 News
---
A month long promotion highlights our 10 year interview archive
As part of the station's 10th anniversary celebrations, we'll be replaying a selection of our interviews gathered since 2008.  Most tie in with the artists imminent UK tour dates.
Station manager David Randall comments: "We are very proud of our modest archive and this led directly to the Featured Artist concept at our website and in the playlists."
"Whilst the selection of featured artists may be highly subjective we have tried to reflect those who have featured regularly on the station either in our playlists or, more specifically, in interviews. We've also aimed to reflect the interests of our reviewers at getreadytorock.com"
"We've always endeavoured to give wider attention to, and support, those established artists who get overlooked by the modern mainstream. And of course we like to support upcoming artists in our weekly showcases."
"Pete Feenstra has worked tirelessly interviewing a whole range of blues/rock-related people which gives the station real depth and not least reflecting the continued popularity of that particular genre. Pete promoted some of Joe Bonamassa's early UK gigs and has also been a long-time supporter of Walter Trout. He's also been a great advocate of the "new breed" of blues rockers such as Danny Bryant, Laurence Jones and Joanne Shaw Taylor."
Amongst the highlights to be featured in September:
3 September (16:00) – Ian Anderson
The Jethro Tull mainman chats about the band's 50th anniversary
4 September (21:00) – Mike Vernon Parts 1 & 2
Pete Feenstra chats to the veteran blues rock producer who is also playing UK dates in September with his band The Mighty Combo.
9 September (18:00) – Andrew Latimer of Camel Part 1
A two hour special celebrating the music of Camel – on tour in the UK 7-17 September. (Part 2, Monday 10 September, 16:00).
11 September (21:00) – Roger Meyer
The guitar effects maestro chats about his work.
16 September (18:00) – Joey Tempest of Europe
The frontman of melodic hard rockers Europe chats to GRTR! in 2013. The band play UK dates 14-24 September.
16 September (22:00) – The Sound of GRTR!
A two-hour special reflecting ten years of broadcasting.
17 September (16:00) – Glenn Hughes
The "Voice of Rock" chats about his music.  He plays UK dates 2-15 October performing "classic Deep Purple".
18 September (21:00) – Sari Schorr
Including tracks from her 2016 album 'A Force Of Nature'.  A new album is released in September with UK tour dates.
23 September (18:00) – Martin Turner ex-Wishbone Ash
Founder member of Wishbone Ash chats about his music with Wishbone Ash and beyond. (He plays UK dates from 13 September)
24 September (16:00) – Steve Hackett
Progmeister Steve in conversation ahead of UK dates with orchestra (1-11 October).
25 September (21:00) – Joanne Shaw Taylor
One of the rising stars in the blues rock world since her debut album in 2009.  She tours in the UK this October.
30 September (18:00) – The Sound of GRTR!
A two-hour special reflecting ten years of broadcasting.
---
DRandall 10 years, anniversary, archive, Camel, Europe, interview, Joanne Shaw Taylor, Joey Tempest, Martin Turner, Mike Vernon, radio, Roger Meyer, Sari Schorr, September 2018