Rory Gallagher
---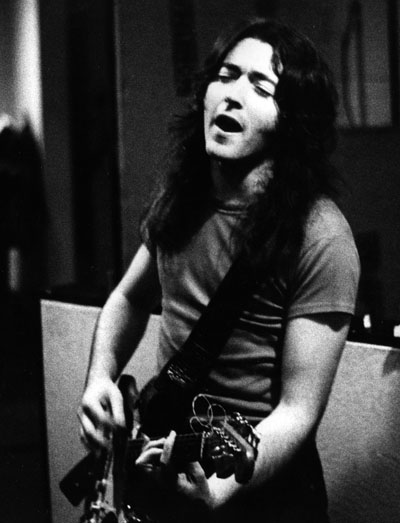 Rory Gallagher features in our blues rock and classic rock sequences.
Rory Gallagher first came to wider attention with the blues rock power trio Taste who released two critically acclaimed studio albums and who appeared at the Isle of Wight Festival in 1970.
After that band ran its course, Gallagher recovened with bassist Gerry McAvoy and drummer Wilgar Campbell and recorded the first of his solo albums for Polydor in 1971. The early seventies was a period of great creativity and in spite of relentless touring he recorded four studio albums in four years. In 1975 he signed to Chrysalis but like many others he rode the wrath of punk in the late seventies although still continuing to produce excellent work.
By the late eighties and after a five-year recording hiatus (1982-1987), Gallagher had failed to build on his seventies success and was fighting ill health. Things got worse and on 14 June 1995 he died in London from complications after a liver transplant.
Rory Gallagher remains highly influential as a guitarist (cited by Johnny Marr, Slash and many others) who blazed a trail for blues/rock in the seventies and is regarded as one of Ireland's most significant musicians. His life is celebrated annually with a festival in May/June and he was commemorated with the unveiling of a statue in his birthplace of Ballyshannon in 2010.
Rory's brother Donal was his right-hand man for most of his career, acting as tour manager and confidant. Since his death he has been custodian of his brother's memory and has overseen several important reissues and projects.
January 2012 saw the release of the six Polydor albums originally issued from 1971-1974. They include Donal's liner notes, bonus tracks, and a return to the original four-track masters. Future reissue projects and a film about Rory Gallagher will continue to keep his brother busy.
A new compilation was released in 2019 – 'Blues' – which included much previoulsy unreleased material – and an unreleased live album is scheduled for early 2020, recorded in early 1977.
---
Broadcast history
"Rory Reissued" (Part 2)
First broadcast Sunday 27 October 2013
Donal Gallagher chats to David Randall about the latest release Kickback City and the later albums
"Rory Reissued" (Part 1)
First broadcast Sunday 19 February 2012
Donal Gallagher talks about his brother Rory
Also available as a podcast
---
LINKS
Album review (Polydor reissues, 2012)