Michael Schenker
---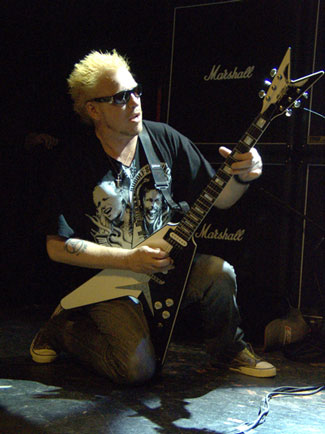 Michael Schenker features in our our instrumental, classic rock, and heavy metal sequences.
Michael Schenker was a founder member of the Scorpions and remained with them until 1973 when he joined UFO. He first appeared on the 'Phenomenon' album (1974) but left after the "Strangers In the Night" tour in 1978 which many considered the apex of that band's career.
In spite of a brief return to The Scorpions and the 1979 album 'Lovedrive', Schenker decided to pursue a solo career and recruited Gary Barden to form the first version of The Michael Schenker Group (MSG). After two albums, Barden was replaced by Graham Bonnet (Rainbow, Alcatrazz) but Bonnet left after only one album and Barden briefly returned for two more.
In the late-1980's Schenker developed the more commercial McAuley Schenker Group with Robin McAuley (vocals). The following decade was marked by a UFO reunion but also personal problems which came to a head with a divorce, debt, and drink. However, he continued to produce excellent albums, not least the 'Thank You' acoustic series.
In recent years Schenker has reunited with Scorpions rhythm section Herman Rarebell and Francis Bucholz for the current incarnation of the Michael Schenker Group, 'Temple Of Rock'.
UFO-era Schenker (and beyond) has been highly influential for other guitarists including Europe's John Norum who cites him as a key influence.
---
Broadcast history
"The Pete Feenstra Feature"
First broadcast Sunday 11 October 2015
Michael Schenker talks to Pete Feenstra about the album 'Spirit On A Mission'
"Assume The Position"
First broadcast Sunday 9 December 2012, 'Assume The Position' 22:00
Michael Schenker talks to David Randall about the new 'Live In Europe' set
"The Guitarists"
First broadcast Sunday 10 October 2010
David Randall talks to Michael Schenker about his career
November 2009, Featured Artist
---
LINKS