Maggie Bell (Stone The Crows)
---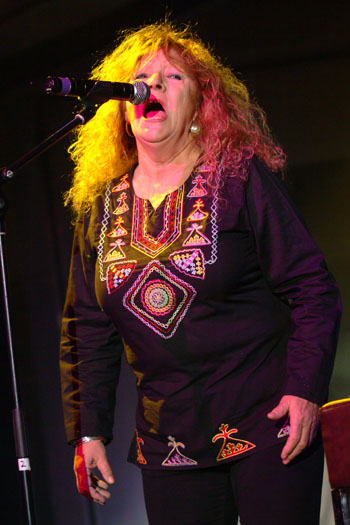 Maggie features in our blues rock and classic rock sequences.
Maggie was sometimes referred to as "the UK's Janis Joplin" and won various music polls in the early seventies for her vocal ability.
She founded blues rock band Stone The Crows in 1969 together with guitarist Les Harvey (brother of Alex). They were joined by drummer Colin Allen (ex-John Mayall), Jim McGinnis (keys) and Jim Dewar (vocals, bass). Mentored by Led Zeppelin's manager Peter Grant (and his associate Mark London) they released two albums in 1970, the eponymous debut and 'Ode to John Law' followed by 'Teenage Licks' in 1971.
Disaster struck in May 1972 when Harvey was electrocuted on stage in Swansea and died instantly. The band soldiered on, with Jimmy McCullough on guitar and releasing the album 'Ontinuous Performance' (1972). Soon after they split and Maggie Bell pursued a solo career.
Atlantic Records producer Jerry Wexler (Ray Charles, Aretha Franklin) heard demos that Maggie had sent to the label in 1972 and then supervised her debut solo album 'Queen Of The Night' (1973). This was followed by 'Suicide Sal' in 1975. In spite of moderate commercial success and wider critical acclaim Maggie never compromised her standards. She achieved a hit single with B.J. Robertson – 'Hold Me' – in 1981 and made one album with Midnight Flyer, By the late eighties she had semi-retired to the Netherlands re-emerging a decade later when she performed with the British Blues Quintet (which featured Colin Allen).
Maggie supplied the theme tunes to popular TV series, 'Hazell' and 'Taggart' and has also had minor roles in TV and theatrical productions. She also played Tommy's mother in the orchestral version of Pete Townshend's rock opera released in 1972.
She currently tours with guitarist Dave Kelly and is also gigging with The Hamburg Blues Band.
Part 2 is available via Mixcloud
---
Broadcast history
First broadcast Sunday 23 August 2015 (Part 1), Sunday 30 August (Part 2)
David Randall chats to Maggie Bell about her career.
---
LINKS