Linda Lewis
---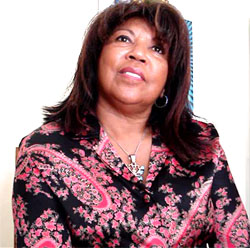 Our usual afternoon song selection is spiced with music from Linda Lewis.  (Mon-Fri 14:00-16:00)

Linda Lewis was "talent-spotted" by producer Ian Samwell in the early 1970s when she shared a Hampstead "commune" with a number of luminaries including Jeff Dexter. This also led to her appearance at the very first Glastonbury festival in 1971.
She made several albums for Warner/Reprise including 'Lark' the first of her collaborations with future husband Jim Cregan (Family, Cockney Rebel).
The album 'Fathoms Deep' followed and a major hit single 'Rock A Doodle Doo' in 1973 and from that time she featured regularly on TV and in the pop magazines.
Linda signed an album deal with Arista in 1975 but came to resent their marketing as she was groomed to become the next big disco diva. In spite of a chart hit with a cover of 'It's In His Kiss' she rapidly became disillusioned with the music business and spent the next decade mainly in the States raising her son.
It wasn't until the mid-nineties that she returned to recording with a string of albums that reflected her enduring popularity in Japan. By 2001, with renewed interest in her work after a spate of anthology collections, she was touring regularly and also in demand (again) as a session singer, appearing on albums by artists such as Basement Jaxx and Lord Large. She also appeared in the Marc Bolan 30th anniversary memorial gig in London in 2007 which was released on DVD.
A highly respected singer and talented songwriter, Linda believes her definitive album is yet to come.
---
Broadcast history
First broadcast – The Songwriters, Sunday 20 February 2009, 18:00
David Randall talks to Linda about her career
---
Linda Lewis' Favourite Tracks
STEVIE WONDER – Isn't She Lovely
ARETHA FRANKLIN – Natural Woman
THE BEATLES – Till There Was You
DOLLY PARTON I Will Always Love You
JONI MITCHELL – Carey
LOUIS ARMSTRONG – Cheek To Cheek
MARVIN GAYE & KIM WESTON – It Takes Two
MARY WELLS – My Guy
NANCY WILSON – Wave
NAT KING COLE – Let There Be Love
OTIS REDDING -(Sittin On) The Dock Of The Bay
---
LINKS