John Lawton
---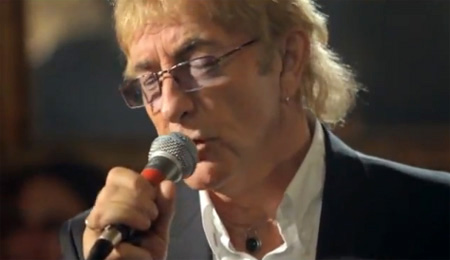 John features in our progressive and classic rock sequences.
Monday 12 July, The GRTR! Archive, 16:00 GMT(+1)
John Lawton is perhaps best known for his three-album stint with Uriah Heep in the late-seventies when he replaced David Byron. However John has had a colourful and eclectic career and his first big break came in Germany in the late sixties when he joined the singing troupe The Les Humphries Singers. He appeared with them at the 1975 Eurovision Song Contest just prior to joining Heep.
Running parallel in the early seventies was his heavy rock band Lucifer's Friend which was made up of musicians from another very successful German-based outfit: the James Last Orchestra. With Lucifer's Friend, John recorded seven albums and the band's style – as evidenced on the eponymous debut in 1970 – is close to Uriah Heep and other contemporaries such as Deep Purple and Atomic Rooster. It is perhaps unsurprising then that Uriah Heep asked him to join them to replace David Byron after hearing a cassette tape passed on by road crew from the pop band Mud.
John Lawton stayed with Heep for three albums. 'Firefly' (1976), 'Innocent Victim' (1977) and 'Fallen Angel' (1978) After he had left due to personal/musical differences he continued to pursue a solo career producing the album 'Heartbeat' in 1980 and 'Stargazer' with Rebel in 1983 and involving himself in various session work and projects including, in 1995, 'Wizard Convention II' with Eddie Hardin.
In the last decade he released 'Still Payin' My Dues To The Blues' (2000) and – as the John Lawton Band – 'Sting In The Tale' (2003). In 2008 there was the album 'OTR' with Jan Dumee who was at the time playing with the band Focus.
John has also found wider success in Bulgaria recording a series of travel programmes about the country for a TV station. And it is to a Bulgarian band – Diana Express – that he turned for a new album 'The Power Of Mind', released in November 2012.
John Lawton died on 29 June 2021.  He was 74.
---
Broadcast history
"Heroes"
First broadcast Sunday 25 November 2012
David Randall talks to John Lawton about his career with music from his latest album with Diana Express, Lucifer's Friend and Uriah Heep.
---
LINKS