Europe
---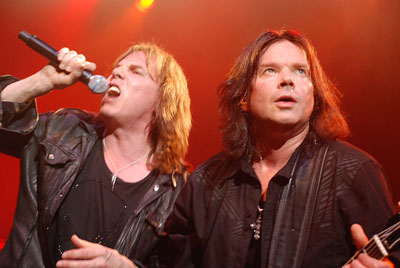 Europe feature in our melodic and classic rock sequences.
Joey Tempest formed what would become the band Europe in 1979 together with guitarist John Norum. The band Force was encouraged to enter a local talent show in Sweden and after winning signed a record deal which led to their self-titled debut album in 1983. In spite of great international success with their third album The Final Countdown, in 1986 Norum split having tired of their essentially pop metal commercial approach.
The band continued with two more albums until they decided to put things on hold in 1992. After this time Tempest worked on solo albums, the first A Place Called Home was released in 1995 followed by Azalea Place with Nashville producer Richard Dodd in 1997.
The 1986 version of the band came back together for an eve of the Millennium gig in Sweden and from that time decided to work together more closely. In the meantime Tempest released his latest solo project in 2002. Europe's "comeback" album Start From The Dark received a generally positive critical response and since that time the band have gone from strength to strength. Their studio album Bag Of Bones was released in 2012.
Whilst more recently the band have been more collaborative in terms of the songwriting, Joey Tempest has been responsible for the bulk of Europe's songs from the earliest days.
The album 'Live In Sweden Rock' was recorded in June 2013 when they celebrated the 30th Anniversary of their debut album.
---
Broadcast history
"The Songwriters"
First broadcast Sunday 20 October 2013
David Randall chats to Europe frontman Joey Tempest about the band's rise and rise
---
LINKS