Don Airey
---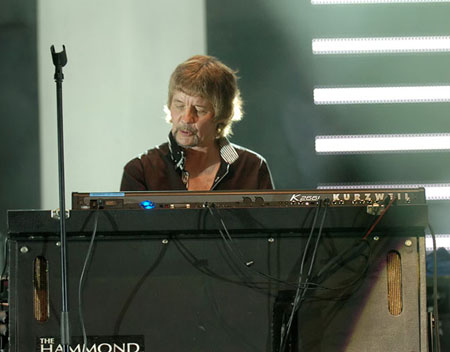 Don features in our instrumental and classic rock sequences.
Don Airey is one of the most sought after session players in the history of British rock music, but he has also had tenures with some of the genre's key bands. After a formal classical training on piano, he started out managing bands on cruise ships in his early twenties. But it was an invitation from the late Cozy Powell (to join Hammer) that was to change his career direction.
Don renewed his musical link with Powell when he joined Rainbow, staying for two albums before working with Ozzy. He played on Whitesnake's seminal 1987 album whilst continuing to lend his talents to a whole range of other artists' albums.
As a session-ist and sometime band member he had a long (35-year) working relationship with Gary Moore, contributed to the Andrew Lloyd-Webber classical fusion album 'Variations' and also featured on the Black Sabbath album 'Never Say Die', both released in 1978.
In 1988 he released his first solo album 'K2' based on the doomed ascent of 1986. He followed this with 'A Light In The Sky' (2008) and 'All Out' in 2011.
Since 2002 he has held the keyboards position in Deep Purple taking over after Jon Lord's ill-health prevented his continuing in the band that he had founded in 1968.
He still finds time to record solo albums and 'Keyed Up' (February 2014) includes some of the last recordings of Gary Moore among contributions from long-time collaborator Carl Sentance and drummer Darrin Mooney (Primal Scream).
---
Broadcast history
"Heroes"
First broadcast Sunday 2 February 2014
Don talks to David Randall about his long career and his solo album 'Keyed Up' released in February 2014.
---
LINKS