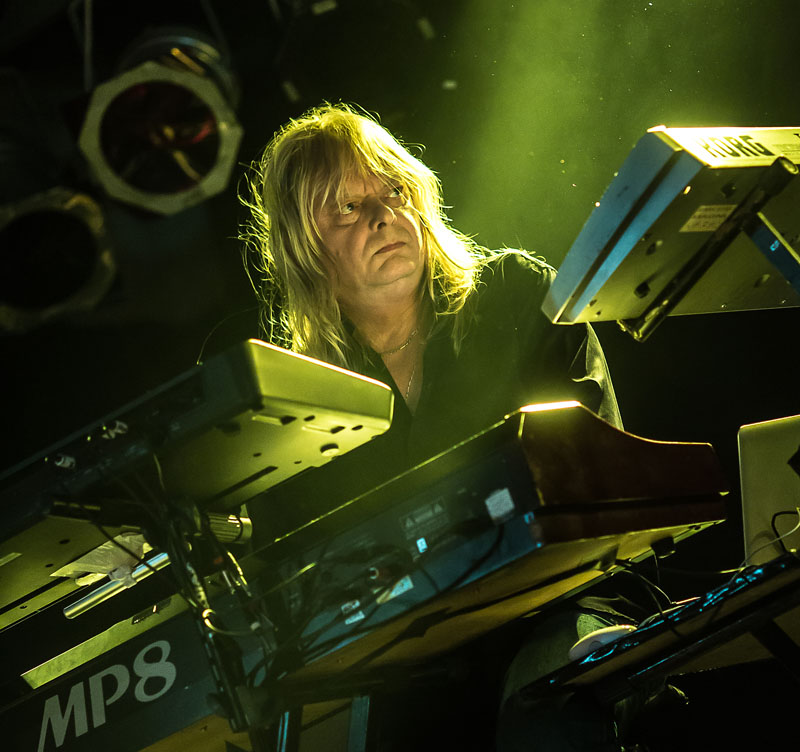 News: KINGDOM OF MADNESS – Classic Magnum dates in March and radio interview
21 February 2019 News
---
Long-time Magnum keyboard player Mark Stanway tours with all-star band
The band formed by former Magnum keyboards player Mark Stanway play a series of dates in March 2019.
Stanway left Magnum in late-2016 and following a chat with one time Magnum keyboard player and flautist Richard Bailey decided there was merit in revisiting some of the earlier Magnum material.
Kingdom of Madness will play tracks from albums dating from the Magnum debut in 1978 to 1994 when they released 'Rock Art'.
The band also includes drummer Micky Barker who joined Magnum for the 'On A Storyteller's Night tour in May 1985 and remained with them until their split in 1995. Guitarist Laurence Archer, a long term associate of Stanway, stepped in for Tony Clarkin briefly on tour in 1984. Completing the line-up is Neil Murray (Whitesnake, Black Sabbath) , vocalist Chris Ousey (Heartland, Snakecharmer) and Mo Birch who has provided backing vocals on previous Magnum albums and tours.
A two-part special is broadcast on Get Ready to ROCK! Radio prior to the tour.
Presenter David Randall is a long-term Magnum fan: "I picked up on their music after the late eighties peak but have closely followed their trials and tribulations since the early 1990s and of course their revival in the early millennium. Magnum have long been a featured band at Get Ready to ROCK! and in 2012 received further promotion to tie in with the 40th anniversary of their formation."
"It is always difficult when a key band member leaves, and in this case after over 30 years. On a positive note Magnum fans are going to be able to hear songs that haven't featured heavily if at all in the band's setlists in recent years and it will help fill in some of the gaps. The whole thing is given greater interest with the presence of musicians who have featured at various times in the band's history."
"Mark was very generous with his time recently and chatted about Magnum and his various adventures including Grand Slam with Phil Lynott. To complete the story, a separate Favourite Tracks feature will illustrate his influences and inspiration over the years."
Part 1: Sunday 24 February at 18:00 GMT
Part 2: Monday 25 February at 16:00.
Both parts will be repeated back to back on Thursday 28 February at 22:00.
In this extended, exclusive edit Mark Stanway chats about Magnum and Kingdom of Madness (15:45)
Photo: Simon Dunkerley
UK tour dates (2019)

Fri MAR 1st
Buckley, Tivoli
Sat MAR 2nd
York, Fibbers
Sun MAR 3rd
Manchester, Academy 3
Thu MAR 7th
Newbury, Arlington Arts Centre
Fri MAR 8th
London, ULU Live
Sat MAR 9th
Poole, Planet Rock "Winter's End" Festival
Sun MAR 17th
Milton Keynes, The Stables
Sat JULY 13th
Alfreton, Carnfield Hall, Rock and Bike Festival
Sat AUG 3rd
Faversham, A New Day Festival
Fri OCT 4th
Troon, South Beach Sessions
Sat OCT 5th
Kinross, Backstage at the Green Hotel
---