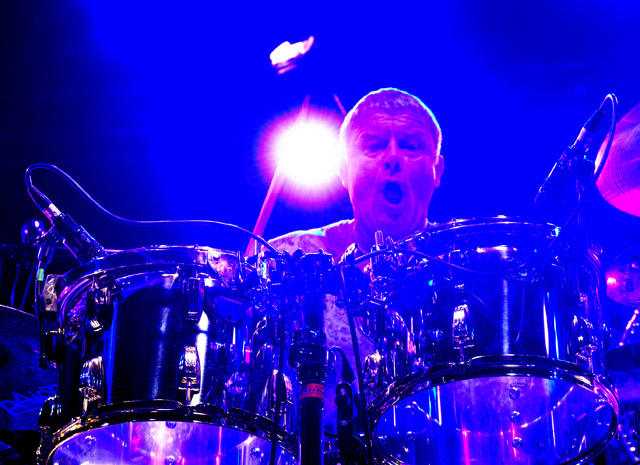 News: CARL PALMER interview and new album (ELP Legacy Live) – June 2018
17 June 2018 News
---
Carl Palmer releases a CD/DVD on 29 June (via BMG) celebrating the lives of Keith Emerson and Greg Lake. "Carl Palmer's ELP Legacy Live" features a CD of a concert recorded in New York in 2014. The accompanying DVD was recorded a few months after Emerson's untimely death in 2016 and became a tribute to the former ELP keyboard player. Greg Lake passed away later that year.
To coincide with this release Get Ready to ROCK!'s David Randall chatted to Carl about his career and latest band incarnation. The hour special includes tracks from ELP and Asia and some of Carl Palmer's side-projects.
David says: "We saw Carl performing last November at the HRH Prog event and hoped to catch up at some point for a chat. Carl immediately answered one of our main queries: the lack of keyboard in the current band line-up. But we also discussed other aspects including his work in Asia and subsequently."
"The Eclectic Mix: Carl Palmer Special" is broadcast on Get Ready to ROCK! Radio on Sunday 17 June at 18:00 GMT.
The hour special will be repeated Monday 18 June, 16:00 GMT and Thursday 21 June, 22:00 GMT
Album review (and interview edit)
Carl Palmer UK Dates
2 August – Under The Bridge, London
3 August – Trading Boundaries, Fletching
4 August – New Day Festival, Faversham, Kent
Album review (and interview edit)
---